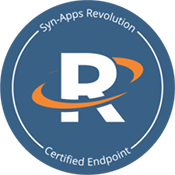 Portland, OR May 26, 2020 — Syn-Apps LLC, a pioneer in mass notification software, is pleased to welcome Axis Communications, industry leader in network security technology, to its Certified Endpoint Partner Program.
Since launching in 2015, Axis network speakers have been an ideal piece to enable network audio within the security, public address, and background music markets. Axis has certified its IP audio devices for interoperability with Syn-Apps' Revolution emergency mass notification software by embedding Syn-Apps' IP device API into their IP devices, providing customers plug-and-play integration with their Revolution notification software.
The partnership began in 2019 when an existing Syn-Apps Revolution customer located in Mexico, planned to expand their notification reach by deploying additional IP speakers across the city. The goal of their expansion project was to provide residents with early earthquake warning notifications to give over 8.5 million citizens more time to take shelter in the event of seismic activity.
To meet the customer's needs, Syn-Apps and Axis worked together to deploy an integrated smart city mass notification solution that covers more than 10,400 IP network speakers across the city. In the event of an emergency, they can rapidly activate Revolution notifications to deliver intelligible audio alerts disseminated across Axis IP speakers strategically located throughout the city.
"Our objective is to create safer communities by giving customers the tools they need to effectively communicate, prepare, and respond to any given situation," said Ian Pitts, President and CEO of Syn-Apps. "Revolution gives customers the power to rapidly communicate to thousands of endpoints simultaneously; effectively reaching millions of people at any given time. We're proud to add an IP security leader like Axis to our product portfolio of integration partners because together, we're making communities safer with our integrated solutions."
Moving forward, mutual customers will be able to manage all of their AXIS devices directly from within their Revolution user interface. This streamlines the entire notification management experience, saving customers time and money. "We're excited to continue driving feature and functionality with Axis, first starting with IP audio, and eventually branching into the IP security space and I/O integration," Pitts concluded.
"Axis Communications' network speakers coupled with Syn-Apps' Revolution software provides customers with a proven, reliable solution that allows for total flexibility, regardless of system size" said Rob Muehlbauer, Senior Manager, Business Development & Partner Ecosystems, Axis Communications, Inc. "The partnership with the Syn-Apps team has been very successful and we look forward to continued collaboration."
More on Syn-Apps Certified Endpoint Partner Program Manufacturers participate in the program by embedding Syn-Apps API and testing their hardware for interoperability with Syn-Apps Revolution notification software. Use of the API is free of charge to IoT endpoint manufacturers and carries a small fee for mass notification providers that integrate Syn-Apps API into their own solutions. This allows them to leverage the Syn-Apps growing ecosystem of certified IoT devices.
Syn-Apps Certified Endpoint Partner Program expands channel resellers and distributors product portfolios by providing customers a trusted mass notification solution, complete with plug-and-play integration between Syn-Apps Revolution notification software and certified hardware devices.
"This program is about technology partners coming together to rapidly influence our product portfolios and bring additional value to our mutual customers," said Marie Thiele, Marketing Manager at Syn-Apps. "Our strategic partnerships facilitate innovation and growth between Syn-Apps and our certified hardware manufacturers while providing customers with true freedom of choice to deploy trusted hardware that meets their business requirements."
To learn more, visit:
Syn-Apps' Certified Axis Endpoints – www.syn-apps.com/partners/certified-endpoints/axis-communications
Syn-Apps' Certified Endpoint Program – www.syn-apps.com/partners/certified-endpoints
Axis Communications – www.axis.com
About Syn-Apps LLC
Syn-Apps is a leader in paging and mass notification solutions designed to improve business processes, increase safety, and streamline internal and external communication. Since 2001, thousands of organizations have integrated Syn-Apps' notification solutions with phones, paging systems, IP speakers, and hundreds of other internal systems and services.
Our customer deployments span across 35+ countries and range in verticals such as K-12, Higher Education, Government institutions, Enterprise, Retail, Healthcare, and more. We are also an OEM manufacturer of mass notification software for several Fortune 500 global companies in the Fire / Life Safety and VoIP Communications industry. For more information, visit https://www.syn-apps.com or by phone at 1-866-664-6071.