Revolution Servers & Virtual Appliances
A simpler Path to Unified Notifications. Syn-Apps' Revolution Virtual Appliance provides customers like you a quicker, more efficient way to deploy Revolution in your virtualized environment!

Syn-Apps offers two virtual environments – VMWare OVA and Microsoft Hyper-V VHD – for a quicker, more efficient way to deploy Syn-Apps' notification software.

Save money
Leverage existing network infrastructure with no OS hardware required.

Fast Install
Cut install time in half. Simply power up and start defining the way you notify your personnel.

Free Windows Server
Includes a free 180-day evaluation license of Windows Server and comes pre-installed with Revolution.

Syn-300 Appliance
4GB RAM
One TB SATA Hard Drive
Intel Xeon Processor
Containable in a mini-1U rack mountable Chassis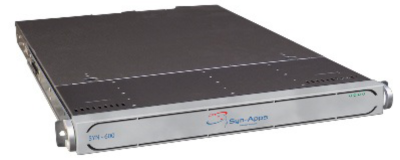 Syn-600 Appliance
8GB RAM
Two 1TB SATA Hard Drives in RAID 1
Intel Xeon Processor and Dual Power Supply
Containable in a 1U rack mountable Chassis