Syn-Apps Brings the Power of Emergency Mass Notifications to the BroadSoft Solutions Partner Program
Syn-Apps LLC, a leader in IP emergency mass notification software, announced it has joined the BroadSoft Solutions Partner Program and its Revolution Emergency Mass Notification Platform has successfully completed interoperability testing with BroadSoft BroadWorks©. Syn-Apps' technology enriches customers unified communications network by bringing multimodal emergency mass notification and advanced IP paging to the BroadWorks platform.

BroadSoft is a mobile-first cloud, unified communications, team collaboration and contact center platform trusted by 25 of the world's top 30 service providers by revenue.
Revolution serves as the central platform used to manage and activate notifications across disparate systems and endpoints such as IP phones, IP and analog speakers, mobile devices, desktop computers, digital signs, and more.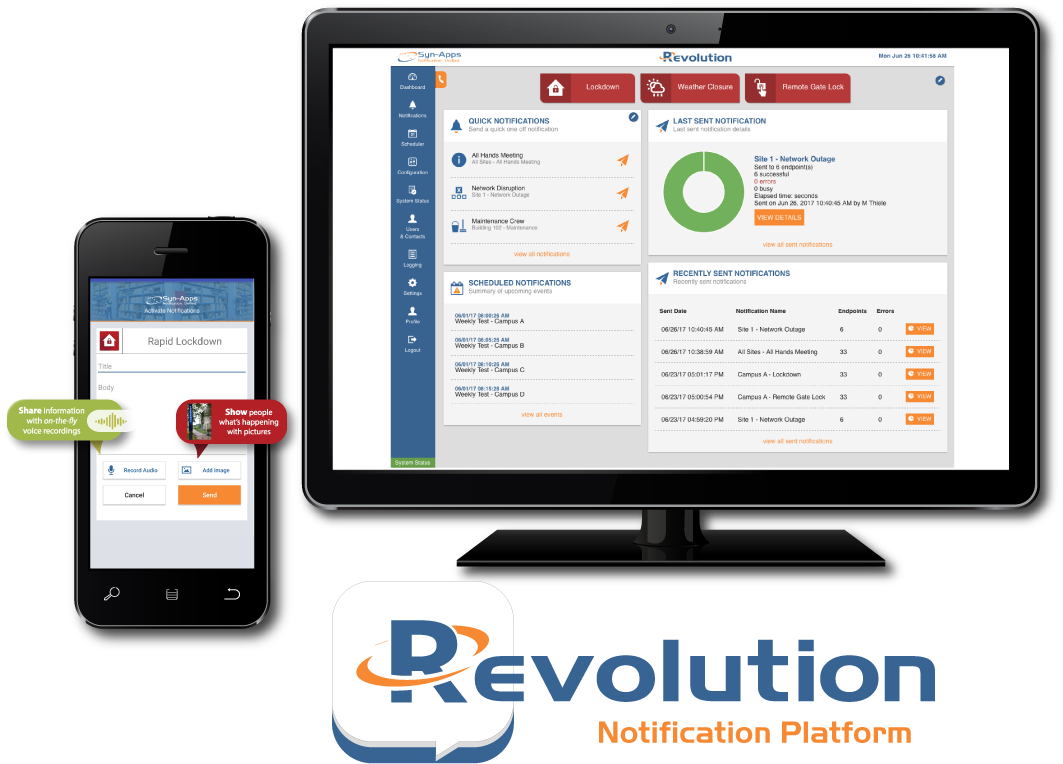 Revolution is interoperable with a number of IP endpoints from trusted BroadSoft Solution Partners, such as Algo, Cisco, CyberData, Polycom, and Yealink. With Revolution, BroadWorks customers can streamline their notification processes allowing them to rapidly notify people more efficiently, safely, and reliably for on- and off-premise recipients.
"Syn-Apps is honored to be the first platform of its kind to obtain interoperability with BroadSoft BroadWorks. Industry leaders like BroadSoft and Syn-Apps have a duty to provide interoperable solutions that enable our customers to ensure the safety of their employees, visitors, students and others. Together, we are making the world a safer place and ensuring positive outcomes," said Ian Pitts, President and CEO of Syn-Apps LLC.

"The Syn-Apps application helps BroadSoft channel partners meet the growing demand for more effective handling of communications during a crisis," said Mark Baker, Business Development Director at BroadSoft."We are thrilled to welcome Syn-Apps as the latest addition to our BroadSoft Solutions Partner Program."
About Syn-Apps LLC Syn-Apps LLC is a leader in notification solutions with a focus on IP communications designed to improve business processes, increase safety, and streamline internal and external communication. Since 2001, thousands of organizations have integrated Syn-Apps' notification solutions with phones, paging systems, IP speakers, and hundreds of other systems and services. For more information, please visit: www.Syn-Apps.com.
About BroadSoft BroadSoft is the technology innovator in cloud communications, collaboration, and contact center solutions for businesses and service providers across 80 countries. We are the market share leader for cloud unified communications with a n open, mobile and secure platform trusted by 25 of the world's top 30 service providers by revenue. Our BroadSoft Business application suite empowers users and teams to share ideas and work simply to achieve breakthrough performance. BroadSoft is now a part of Cisco. For additional information, visit www.BroadSoft.com.