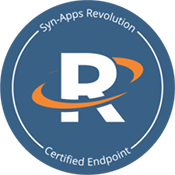 Integrated mass notification technology aims to protect and inform staff with HELP ALERT® and 3D-iD® locating powered by RF Technologies and Syn-Apps Revolution notification software
Portland, OR June 5, 2020
— Syn-Apps LLC, a pioneer in mass notification software, is pleased to welcome RF Technologies, industry leader in life safety and security systems, to its Certified Endpoint Partner Program.
RFT, a leading provider of wireless safety and security solutions for over 33 years in healthcare, senior living, hospitality and education, is excited to partner with
Syn-Apps Revolution notification software
.
RF Technologies has certified its HELP ALERT® wearable buttons and 3D-iD® for interoperability with Syn-Apps' Revolution emergency mass notification software by embedding Syn-Apps' IP device API into their wearable buttons and PinPoint RTLS (Real-Time location Services) software. This provides customers with a comprehensive safety solution from button activation to resolution.
The partnership began in 2019 when both parties recognized the need for an integrated solution that could provide customers with mass notification and real-time location services. The goal of this partnership is to provide Revolution customers the ability to notify building management, security and internal personnel by activating HELP ALERT wearable buttons when assistance is needed.
HELP ALERT buttons trigger Revolution to broadcast multi-modal notifications and share location data in real time. Alerts are delivered to IP phones, speakers, digital signs, Revolution mobile application, and other on-premise devices that are continuously monitored by internal personnel. Together, the technology allows internal personnel to respond to the scene quickly in the event of an emergency.
"Situational awareness is critical during time sensitive situations. Syn-Apps is excited to partner with RF Technologies so our joint customers can leverage real-time location as another data point to quickly assess and remediate emergency events," said Ian Pitts, President and CEO of Syn-Apps.
Moving forward, mutual customers will be able to manage all of their devices directly from within their Revolution user interface. This streamlines the entire notification management experience, saving customers time and money.
"It was quite evident to us that the capabilities of Revolution, when combined with the proactive risk mitigation features of HelpAlert, would result in something very special…special has now become a reality," said Brian Kinne, RFT Vice President.
More on Syn-Apps Certified Endpoint Partner Program
Manufacturers participate in the program by embedding Syn-Apps API and testing their hardware for interoperability with Syn-Apps Revolution notification software. Use of the API is free of charge to IoT endpoint manufacturers and carries a small fee for mass notification providers that integrate Syn-Apps API into their own solutions. This allows them to leverage the Syn-Apps growing ecosystem of certified IoT devices.
Syn-Apps Certified Endpoint Partner Program expands channel resellers and distributors product portfolios by providing customers a trusted mass notification solution, complete with plug-and-play integration between Syn-Apps Revolution notification software and certified hardware devices.
"This program is about technology partners coming together to rapidly influence our product portfolios and bring additional value to our mutual customers," said Marie Thiele, Marketing Manager at Syn-Apps. "Our strategic partnerships facilitate innovation and growth between Syn-Apps and our certified hardware manufacturers while providing customers with true freedom of choice to deploy trusted hardware that meets their business requirements."
To learn more, visit:
Syn-Apps' Certified Endpoint Program – www.syn-apps.com/partners/certified-endpoints
RF Technologies – https://www.rft.com/brands/help-alert/
About Syn-Apps LLC
Syn-Apps is a leader in paging and mass notification solutions designed to improve business processes, increase safety, and streamline internal and external communication. Since 2001, thousands of organizations have integrated Syn-Apps' notification solutions with phones, paging systems, IP speakers, and hundreds of other internal systems and services.
Our customer deployments span across 35+ countries and range in verticals such as K-12, Higher Education, Government institutions, Enterprise, Retail, Healthcare, and more. We are also an OEM manufacturer of mass notification software for several Fortune 500 global companies in the Fire / Life Safety and VoIP Communications industry. For more information, visit
https://www.syn-apps.com
or by phone at 1-866-664-6071.
About RF Technologies
RFT (RF Technologies) is a leading provider of comprehensive, integrated RFID Safety and Security systems, Wi-Fi RTLS systems, and healthcare enterprise solutions. With an installed base of more than 10,000 systems worldwide, RFT specializes in state-of-the-art healthcare solutions for senior care facilities and hospitals, including CODE ALERT® Wandering Management, Wireless Call and Fall Management Solutions, SAFE PLACE® ED and Infant Security Solutions, and PinPoint® RTLS Location-Aware Solutions. The company is credited with inventing the first RFID infant security system, which was designed and developed by nurse clinicians. It was the first in the industry to invent Peer-to-Peer Wi-Fi RTLS, and to offer Remote Monitoring, RF Consulting and 24X7 technical support by RFTs' staff specialists and a nationwide service management team. Visit
https://www.rft.com/brands/help-alert/
for more information.