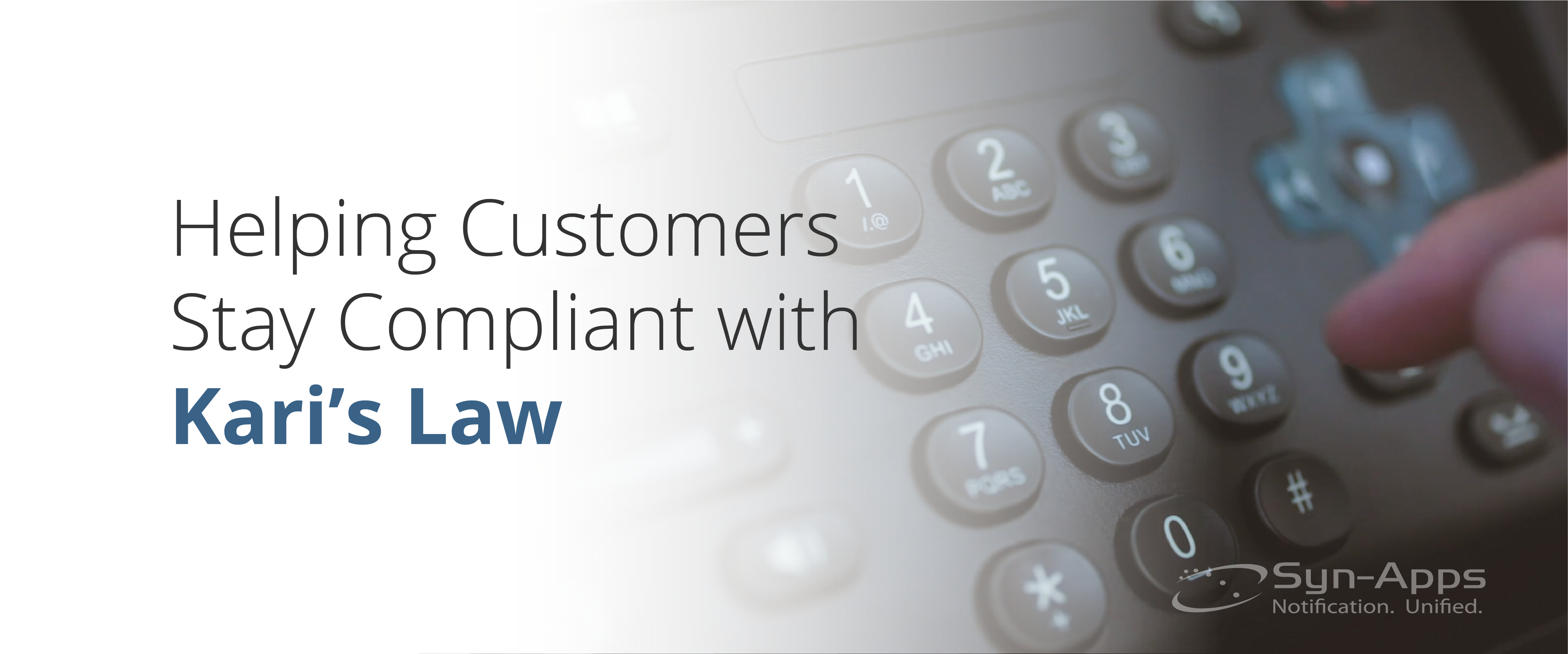 Kari's Law is named in honor of Kari Hunt, who was murdered in her motel room in 2013 in Marshall, Texas. Kari's 9-year-old daughter tried calling 9-1-1 four times but unfortunately was unable to reach an outbound line because she didn't know she had to dial "9" to place an external call. This fatal incident is what drove lawmakers to create Kari's Law. This new law was designed to make it easier for people to quickly call 9-1-1 from an enterprise phone system.

Kari's Law was signed into Federal law in February 2018 and went into effect exactly two years later on February 16, 2020. The new law requires all U.S. organizations with multi-line telephone systems (MLTS) to allow direct dialing to 9-1-1 without having to dial a prefix number, such as "9", to dial out. MLTS are typically found in enterprises such as a public school, office building, college campus, hotel, and more. The statute requires multiple communication components be available to the public, such as direct dialing and direct routing. In addition, the law mandates that businesses must adopt an internal notification processes that alerts personnel when 9-1-1 is dialed. These notifications can be in the form of a screen-pop up message, automated phone calls, SMS text message, email, or other types of attention-grabbing alerts.

In this blog, you will learn about how Kari's Law can make an impact in your organization with the help of Revolution.
Dial Monitoring with Revolution
Syn-Apps
Revolution
can help customers stay compliant with Kari's Law. Revolution's Dial Monitoring feature can alert internal personnel when a predetermined number, such as 9-1-1, is dialed from a phone on the network. The notification can include the extension number that dialed 9-1-1, date and time the call was placed, and other information. Notifications can be sent to IP desk phones, SMS text messages, digital signs, and more. This is a critical tool that allows personnel to quickly respond to chaotic situations. It is important to notify internal personnel because they can inspect the situation prior to first responders arriving and then guide them directly to the scene once they appear.
Watch this video to learn more about Kari's Law and how mass notification software like Revolution can help your organization meet internal notification requirements:
How Kari's Law is Making a Difference
Kari's Law is necessary for MLTS because people are able to request assistance quickly when there is an emergency. The purpose of this law is to ensure that tragic situations like Kari Hunt's story do not happen again.
Whether someone is a student, faculty member, or hotel employee, Kari's Law will help prevent confusion in any emergency and deliver accurate information to first responders. First responders will save time finding information about the caller and can focus on arriving to the scene as fast as possible without complications.
Revolution can help customers comply with Kari's Law by getting the help needed when a caller is in danger and being able to directly deliver information to the receiver.
Syn-Apps can help your organization unify your technology and people to produce dependable communication in order to save lives. Contact Syn-Apps Sales to learn how Revolution can help your organization stay compliant with Kari's Law requirements:
www.syn-apps.com/contact-us
or by phone at
1-866-664-6071
.