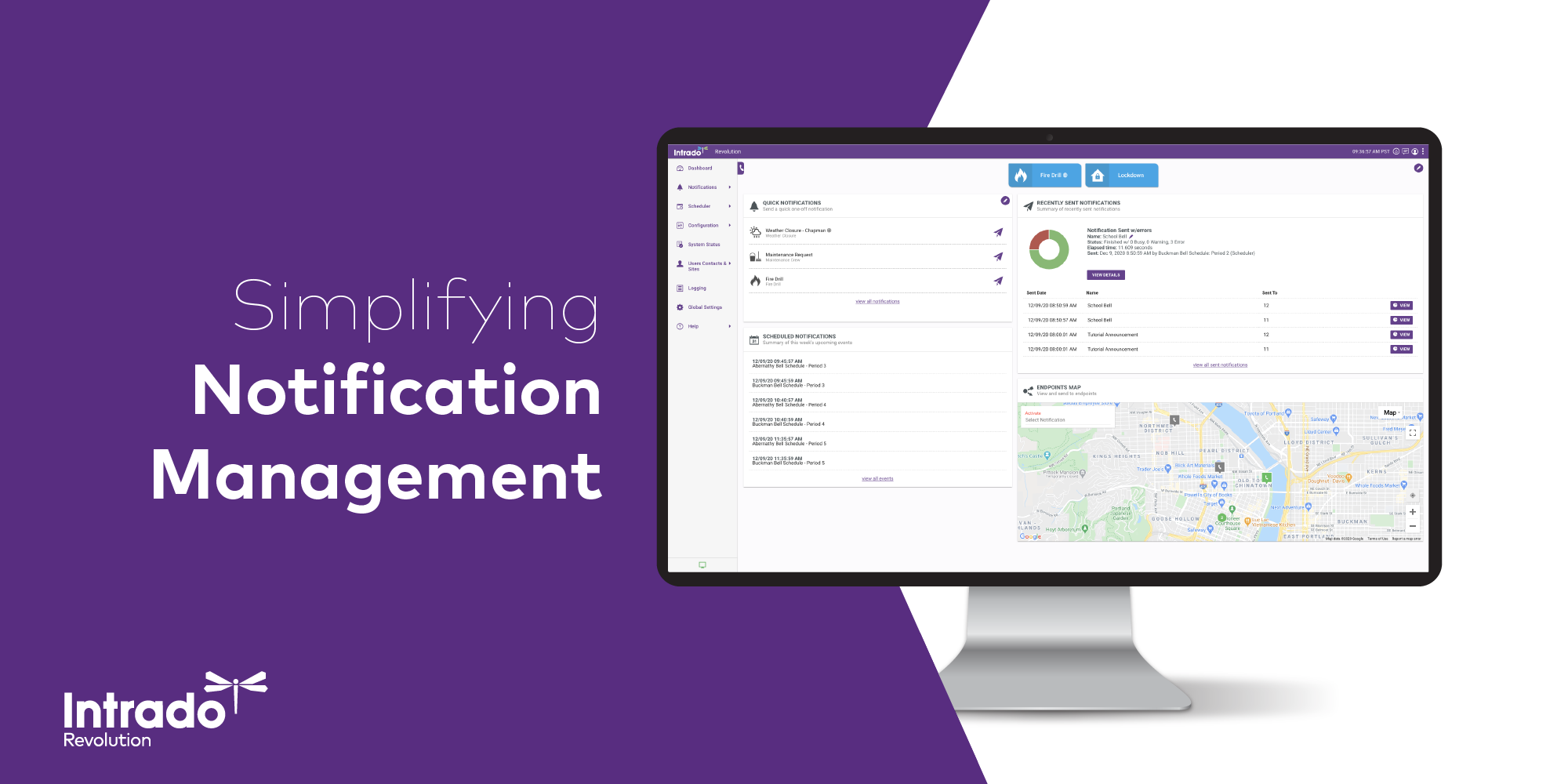 Intrado Revolution is an emergency mass notification system that unifies disparate technology into a centralized platform. This software connects people, systems, and processes to eliminate communication barriers. Revolution gives people a simple user experience to keep organizations and its people safe and secure while also providing a straight-forward process on notification management.

In this blog, you will learn how Revolution helps simplify notification management for organizations.
Controlled User Access
Revolution helps system administrators and authorized users simplify notification management across their entire organization. To manage notifications in Revolution, only Admin and Editor user roles can create, delete, and edit notifications. For multi-site organizations, users can only create, delete, and edit notifications assigned to their site and only the All-Sites Admin can access all notifications. While managing alerts, you should know what kind of notification you want to create, how you want it triggered, and what endpoints you want to receive.
Organizing Notifications, Sites & Recipients
Here's a few examples of ways Revolution helps organize notification management:
Tags – You can use tags to group endpoints together, so it is more convenient to assign them to notifications. Tags make it easier to add and remove endpoints to notifications.


Sites – Typically an All-Sites Admin can assign sites. If your organization uses multiple sites, you can assign individual sites to user accounts, triggers, notifications, etc. Some organizations may want to have users, triggers, notifications, schedules, or endpoints assigned to specific sites so users only have access to what's relevant to them.


Contacts/Users – Contacts receive notifications, as opposed to endpoints that are usually devices (IP phones, IP speakers, etc.). Contacts can be people who are your employees or people outside of your company.


Geofencing Mobile Alerts – This is a geographic area that uses GPS coordinates to draw a virtual boundary. Revolution includes a geofence feature that allows users to send notifications to mobile recipients based on their device's physical location.


High Availability – Typically referred to as active/active, which uses multiple servers that provide continued service in cases where system components fail. Traffic intended for a failed server is passed to the next priority server, as defined by your Priority Groups. This helps ensure your notifications can still be sent.


System Status Alerts – You can use this feature to create triggers that send notifications when there's a system status that needs your attention. For example, when endpoints are inactive, modules are down, your license needs to be renewed, and more.
If you would like to learn more about simplifying your notification processes with Revolution, contact us at
www.syn-apps.com/contact-us
or by phone at
1-866-664-6071
.