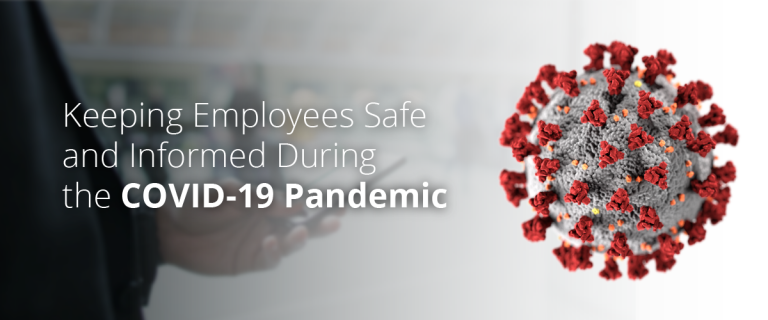 Disclaimer: This article includes certain statements that are subject to change due to the speed at which the news updates and research findings surrounding COVID-19 are being released. We have included links to external resources throughout for supporting accuracy at the time of publication. Please consult your healthcare organization for any changes or new updates regarding COVID-19.
The novel
coronavirus
(COVID-19) that began in Wuhan, China has spread globally reaching six
continents
and killing thousands of people worldwide. The World Health Organization (WHO) declared the outbreak as a
pandemic
on March 11, 2020. Both international and national health organizations have recommended – and in many cases, mandated – preventative practices to combat this public health emergency. This includes raising awareness for hygiene and practicing social distancing from others; for example, requesting many to work from home when working on-site isn't necessary or essential.
In this blog post, we'll outline the impact of the coronavirus and how mass notification systems can make a difference during this time of need.
Mass Notification Tools Can Help Mitigate the Impact of COVID-19
With the coronavirus spreading rapidly across the globe, organizations have been forced to prepare and act quickly. The
CDC
suggests community-based interventions such as event cancellations, school dismissals, and creating plans for employees to work remotely can help the slow spread of this virus.
Mass notification systems
provide fast and reliable communication tools that keep people informed by sharing health and safety information. These tools ultimately help communities make safe and informed decisions to prevent the spread of this virus.
Essential businesses such as hospitals, grocery stores, airports, and government institutions can benefit from mass notification tools to rapidly communicate critical information to a large group of people. For example, mass notification software such as Syn-Apps'
Revolution mass notification software
can be used to broadcast in-building paging for first responders and healthcare workers, share timely reminders on how personnel or customers can protect themselves from the illness, or broadcast announcements such as updated store business hours and reminders to practice social distancing.
Helping Those on the Frontlines in Healthcare with Hands-Free Paging 
Hands-free paging is another critical way mass notification software can help those on the front-lines in healthcare do their jobs while maintaining safe hygiene. This functionality helps staff communicate without having to physically come into contact with a device which reduces the risk of contracting COVID-19 or infecting others.
Revolution's
intercom feature allows users to initiate hands-free communication between two talkback devices. For example, an ICU doctor can initiate an intercom notification between their
talk-back speakers
by pushing a wall-button with their elbow. This action activates a Revolution intercom notification between the talkback speaker in the ICU room and another speaker, such as in the nurses station or front office. This is a quick and reliable way for doctors to request assistance without spreading germs.
Other Ways Essential Businesses Can Use Revolution for Mass Notification
Revolution can help your organization share information in-real-time or scheduled intervals about the coronavirus by sending alerts to mobile devices, IP phones, email clients, computers, and more. Here's a few more use cases:
Scheduled broadcasts (e.g. updated store closing hours, sharing health and safety tips, reminder to wash hands and practice social distancing, etc.)
Live paging (e.g. broadcast medical codes or to page medical staff)
Recorded announcements (e.g. sharing health and safety tips)
Share updates such as business closures and schedule changes via email, SMS, or mobile push notifications
Initiate door locks to keep people out of quarantined areas via contact closures
Alert personnel if doors are opened in quarantined areas via contact closures
To learn more about coronavirus updates, symptoms, and safety tips, visit the
CDC website
. Find out more about Revolution by visiting
www.syn-apps.com/revolution
or contact Syn-Apps at
www.syn-apps.com/contact-us
.