*This is the third of a four-part series highlighting the various features of Syn-Apps' patented Paging Relay. Last week showcased the Paging Relay's contact closure connections.
Paging Relay Product Spotlight
Syn-Apps' 
Paging Relay
is a small, 
patented
 PoE network appliance that provides customers with a number of communication functions. It also enables connectivity to analog endpoints, contact closure devices, alarm panels and more, providing seamless integration with our SA-Announce notification platform.
Feature of the Week – Music Capabilities
Waiting patiently can be difficult, especially for long periods of time. If customers have to wait for assistance, they might get impatient, hang up the phone or leave, becoming a missed opportunity. Creating ambient environments by playing music while customers wait in a lobby or wait on hold in a call queue can help keep people engaged. Syn-Apps' 
Paging Relay
accepts live audio from any external device
 and can stream background music to IP and analog speakers. It can also be used to play music on hold for callers waiting on the phone. The Paging Relay provides the ability to play background music and music on hold.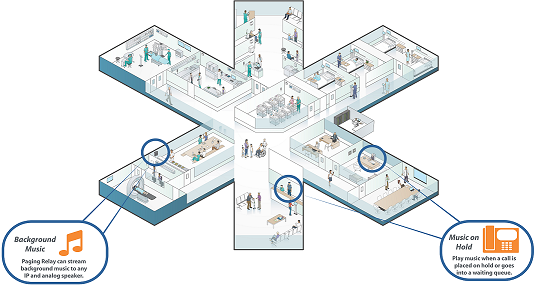 Background Music
The Paging Relay digitizes a signal and transmits it as a multicast stream, providing crisp, clear audio. This is especially useful in common areas such as lobbies, hallways, waiting rooms, retail floors, and more.
Music on Hold
The Paging Relay also has the ability to play music when callers are placed on hold or put into a waiting queue. This helps create a pleasant call waiting experience. How could your organization benefit from background music or music on hold? Contact the
Syn-Apps Sales Team
to discuss a solution.