*This is the second of a four-part series highlighting the various features of Syn-Apps' patented Paging Relay. Last week's post showcased the Paging Relay's unicast to multicast conversion capabilities.
Paging Relay Product Spotlight
Syn-Apps' 
Paging Relay
is a small, 
patented
 PoE network appliance that provides customers with a number of communication functions. It also enables connectivity to analog endpoints, contact closure devices, alarm panels and more, providing seamless integration with our SA-Announce notification platform.
 Feature of the Week – Contact Closures
Smart detection and automated alerts can help improve situational awareness. Depending on the use case, contact closures can be configured to trigger endpoints (lock doors, activate sirens) or send an alert when an external switch is activated (emergency door opens, help button is pushed). Contact closures can keep personnel informed of whats going on in the building at all times. Syn-Apps'
Paging Relay offers two different types of contact closure connections
: sensor contact closure and relay contact closure.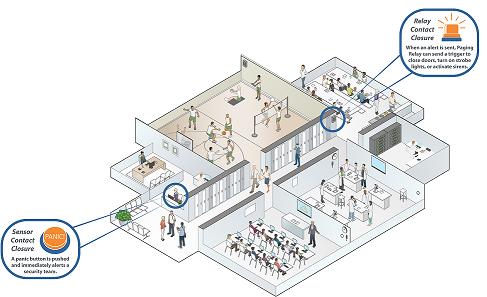 Relay Contact Closure
When an alert is sent from SA-Announce, the Paging Relay's Relay Contact Closure feature can send a signal and activate any electrical device that reacts with a simple "on/off switch."
Example:
There is an intruder in the school. The Principal activates an SA-Announce Emergency Alert notification, which triggers the Paging Relay to activate contact closure devices throughout the building to close and lock doors, turn off lights, or activate strobe lights and sirens.
Sensor Contact Closure
When activated, the Paging Relay's Sensor Contact Closure feature can trigger the Paging Relay to play pre-recorded audio notifications. If integrated with SA-Announce, the feature can be used to send a notification when a device is activated.
Examples:
A customer walks into a store and activates the motion detector (a sensor contact closure) set up on top of the door. This triggers the Paging Relay to broadcast a locally stored audio file to overhead speaker systems.

A customer is in need of assistance and pushes a "help" button, which is connected to the Paging Relay. The Paging Relay triggers an SA-Announce notification, alerting the department manager that a customer needs assistance.
Ask yourself this:
 How could your organization utilize contact closures to improve situational awareness and keep personnel informed of what's going on within your buildings at any given time?