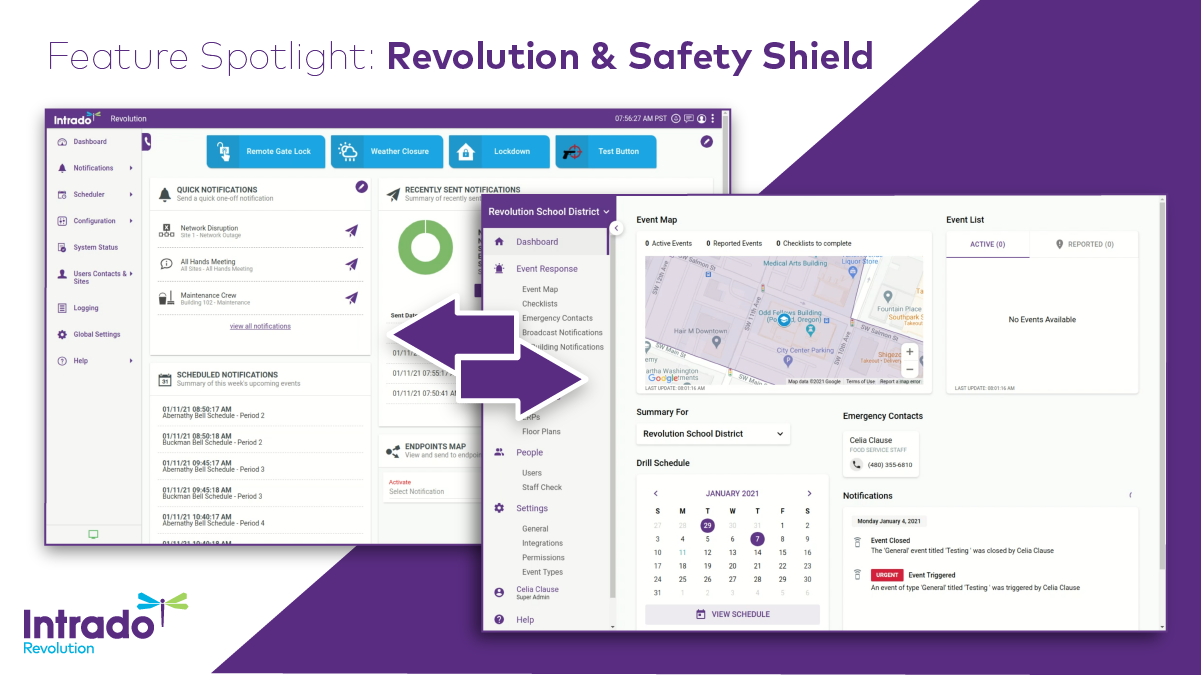 Intrado Revolution and Safety Shield software products provide customers with a true end-to-end solution for managing safety situations. These two components are part of Intrado's Safety Suite portfolio which helps organizations remove the guesswork during critical times where stress levels are high, mistakes are costly, and lives may be at risk.

Intrado Safety Suite portfolio helps organizations prevent, prepare, respond and recover from any kind of threat by significantly narrowing the time between detection and incident resolution.

In this blog, you'll learn about Revolution and Safety Shield and how they work together.
What is Revolution?
Intrado Revolution is an emergency mass notification platform used to help organizations communicate with their people and keep everyone safe and secure. Revolution redefines the standards of mass notification by connecting systems, people, and processes like never before. This software can break down communication barriers by unifying disparate technology into a centralized notification management platform to help communicate critical information.
What is Safety Shield?
Unlike other solutions that only address one aspect of safety, Intrado Safety Shield helps you close safety and security gaps with its complete set of capabilities. Safety Shield leverages Intrado's status as a 9-1-1 service provider to offer its users a faster connection to 9-1-1 by automatically passing critical data about callers to a 9-1-1 dispatcher, allowing for quicker incident response and more accurate location information sharing.
How Do These Two Products Integrate?
The bi-directional integration between Revolution and Safety Shield means that regardless of the system that launches the emergency notification, both systems will simultaneously activate their pre-defined communication processes for the specific event type; with Revolution providing in-building mass notification and Safety Shield being the bridge to alert first responders.
View this video to find out more about Revolution and Safety Shield:
To learn more about how Revolution and Safety Shield can help your organization, contact us at
www.syn-apps.com/contact-us
or by phone at
1-866-664-6071
.