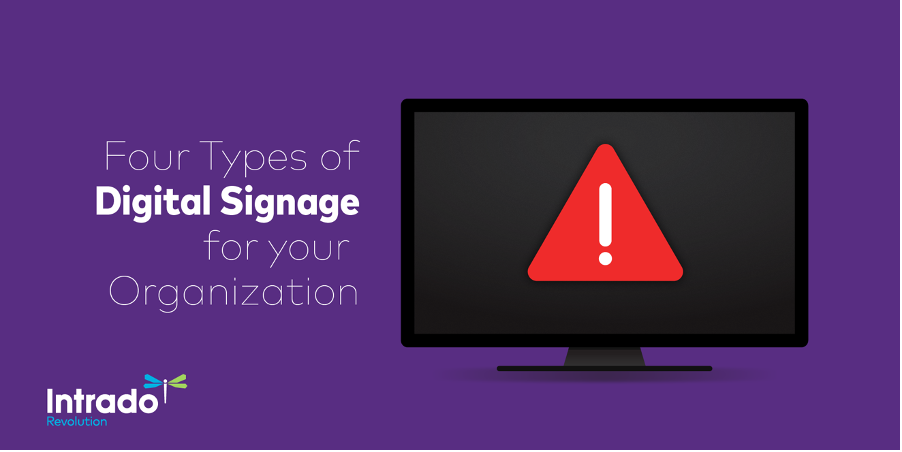 Purpose of Digital Signage
Digital signs are a great way for organizations to visually communicate with people during a situation by displaying attention-grabbing text and images. Alerting people with the right message at the right time is paramount to life safety and digital signage can help those who are hearing impaired stay informed.

Businesses may be impacted by pandemics, encounter severe threats, or face catastrophic natural disasters, and digital signs are handy tools that can help your organization effectively communicate information about the event.

In this blog, we will cover four different types of digital signs and how it can integrate with Revolution to fulfill your mass notification needs.
Use Cases for Digital Signs by Industry
Digital Signs can be integrated in many facilities to help deliver critical information to their people. Here are a few examples of use cases:
• Education – Digital signs are typically placed in public areas, such as cafeterias, dorm hallways and lobbies, so they can be a great tool to make sure your message is seen by students and faculty. Here are some examples used by schools: Display routine calendar reminders, active shooter situations, classroom reminders, and take shelter warnings.
• Healthcare – In a hospital, digital signage can present code alerts or display visitor hours. Specialty health clinics can have signs that show "lobby messages" or infotainment including educational messaging.
• Transportation – Digital signs can show airport or train station passengers and faculty when to seek shelter (i.e. tornado warning), gate change information, or alert employees when assistance is requested in a certain part of the facility.
• Industrial / Manufacturing – Manufacturing facilities can broadcast live or pre-recorded alerts across digital signage to quickly communicate with employees. They can also be used to share break schedule information.
Revolution Mass Notification Software & Digital Sign Hardware
Revolution software is an emergency mass notification platform used to help organizations communicate important information to employees, visitors, first responders, and security personnel. This multi-platform software gives people the flexibility and advantage to communicate wherever they may be located in a quick and efficient manner. Revolution can help your business communicate critical information and request assistance through mobile devices, IP phones, paging and intercoms, computers, and many more.
Revolution integrates with a number of digital sign manufacturers to give customers freedom of choice in the technologies they choose to deploy in their environment. Digital signs can provide a simplified network management which allows you to easily manage messaging from one central place, Revolution, and display across a variety of endpoints located within your facility. The large bright signs can help people find exactly what they need to know at a specific moment.
Whether the signs are used for safety purposes or general communication, Revolution can help your organization deliver your important messages to keep your people informed.
Three Syn-Apps Certified Digital Sign Manufacturers
• TAPCO / Adaptive Display Solutions – Adaptive Display's Alpha MNS series devices offer a plug-and-play integration with Revolution. Their devices provide multiple lines for text and supports full color (4,000 color options). Their devices are ideal for sharing a lot of text or for those that require different colors for different messages (i.e. code alerts). Their devices are designed for semi-outdoor sheltered use. Click here to learn more.
• Advanced Network Devices – AND's new HD IP Display provides a plug-and-play speaker / digital sign display combo with plug-and-play integration to Revolution. It supports images with full-color spectrum, a speaker, and an RGB multi-color flasher. The device is viewable up to 50 feet and has an angled face for reduced glare. Click here to learn more.
• Pro-Lite – Pro-Lite's ReAct sign is a plug-and-play integration with Revolution. It includes a text display, flashing strobe light, audible alerts, auto lockdown and auto open function capabilities, and comes with PoE/backup battery power options. The sign integrates with Pro-Lite's ACT-ONE EAS Controller or can be operated independently. Click here to learn more.
Other Compatible Digital Sign Brands
Customers can set up CAP Notifier in Revolution to deliver information to CAP-compliant devices, such as digital signs or RSS/Atom Feeds. The manufacturers listed below are CAP-compliant and have been validated by customers to work with Revolution:
Digital signage is a great form of communication for many industries. Revolution users can integrate digital signage to provide the best safety in their facility. For more information, contact us at www.syn-apps.com/contact-us or by phone at 1-866-664-6071