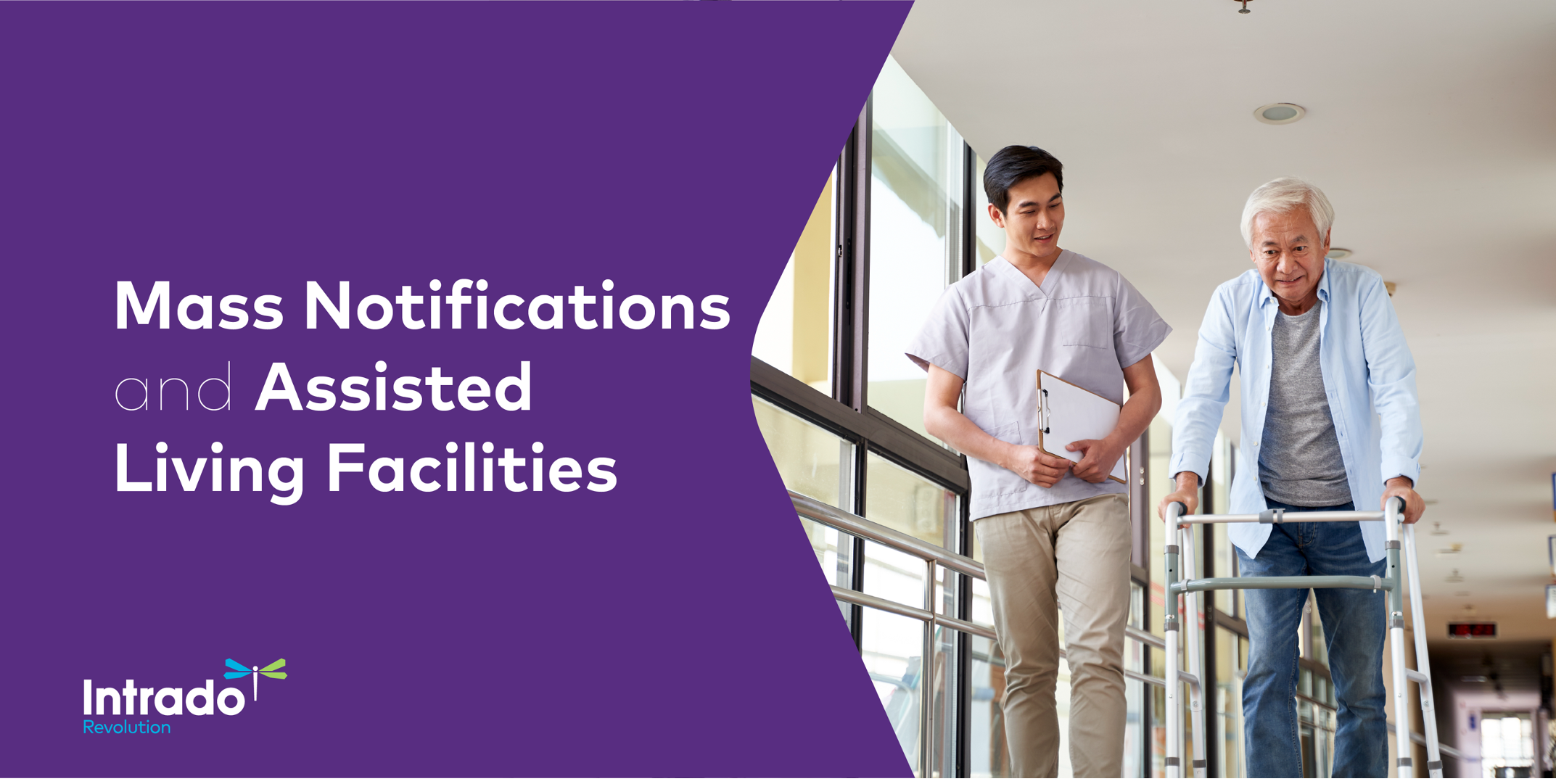 Communicating in Assisted Living Facilities
Assisted living facilities are homes for adults who cannot or who choose not to live independently. These organizations often rely on multiple communication tools in order to run effeciently. Mass notification systems are an important tool to share information with residents, families & visitors, and staff. They can be used to share COVID-related information, rapidly put a facility in lockdown, call for emergency assistance in a resident's room, building evacuations, and more.
Revolution
is an emergency mass notification platform that can help your facility keep residents safe and informed. This tool breaks down communication barriers by uniting disparate technology into a centralized software system. Revolution offers a variety of features that helps customers maintain a safer environment with tools for access control / building monitoring, in-building paging, responsive patient care, and many more.
In this blog, we will explain how Revolution can benefit assisted living facilities.
Four Notification Features That Help Retirement Facilities:
Building Monitoring & Access Control Integration – Building Monitoring & Access Control systems are tools that keep facilities secure. Cameras, badge scanners, and automatic locking systems are common examples of this technology. Most typically run independently and have their own notification tool but alert capabilities are often very limited in functionality (i.e. email or phone call alerts only). By integrating access control systems with mass notification software like Revolution, organizations can take their building security to the next level. This integration provides a streamlined process for rapid detection, communication, and incident response.

For example, if a resident wanders off after-hours, staff can put the immediate area into "silent" lockdown without disturbing other residents until the person is found. Staff would activate a pre-configured notification in Revolution which would trigger the access control system to lock doors in the immediate surrounding area. Simultaneously, the system would notify staff with attention-grabbing alerts such as turning on hallway strobes, displaying a code alert on digital signs and desktop computers, push notifications delivered to mobile devices or IP phones, and more. After the event, Revolution can be used for an "all-clear" process to deactivate the systems in the affected zone and share follow-up information once the resident has been found. By monitoring what goes on within your facility and building grounds, you can be sure everyone is safe, secure, and accounted for.
In-Building Paging – With in-building paging, you can broadcast pre-recorded, live, or non-emergency information in common areas such as hallways or facility grounds. This is useful to notify faculty such as nurses, staff members, or other personnel when their assistance is needed. It's also an extremely important tool to rapidly communicate emergency information to anyone within the building that may need to take shelter or evacuate, such as a tornado or fire safety event. Robust notification systems should integrate with various IP speakers and analog systems to accommodate user needs regardless of their technology infrastructure.


Responsive Patient Care – Responsive patient care is critical for assisted living facilities – especially during an emergency. Revolution has several "help" buttons that help cut incident response time and improve resident satisfaction. Here are a few examples:


• Panic Buttons – Panic buttons can be placed in every resident's room in case they need help from a nurse or staff member. If the resident needs to ask for assistance and has the ability to reach the button, they just need to push the button to call for help! Faculty will be notified with an alert containing resident room information delivered to any device Revolution has been configured to notify.
• Soft-Key Buttons on Phones – Authorized users can configure soft-keys for supported IP phones to serve as a panic button or quick-send feature (for non-emergency requests). For example, this can be used by residents in their private rooms or shared facility grounds. By pushing the button on the phone, it rapidly triggers a notification designated to notify nurses or staff located within close proximity to where the button was activated.
• Wearable Button Fobs – The Wireless Help Alert Fob is a wearable panic button developed by our Certified Endpoint Partner, RF Technologies. It natively integrates with Revolution. In an assisted living facility, a resident or staff member can wear the fob and activate it if they need emergency assistance. By pushing the button, this action triggers Revolution to warn staff. In addition, if the facility leverages RF Technologies PinPoint software, the fob activation can share triangulated location information which provides the precise location of the safety incident to safety personnel for quicker response time.
Revolution Mobile App – Revolution Mobile is an app that brings emergency alerts and mass notification directly to your users and wherever they may be located. Users can activate and receive any alerts from within this app. This app allows people to communicate with faculty or families of critical events such as missing patients (to alert staff), weather emergencies, COVID-related reminders, and more.


Revolution can provide many features that your assisted living facility can integrate with in order to maintain a safe and secure environment. To learn more about Revolution, you can contact Syn-Apps at www.syn-apps.com/contact-us or by phone at 1-866-664-6071.