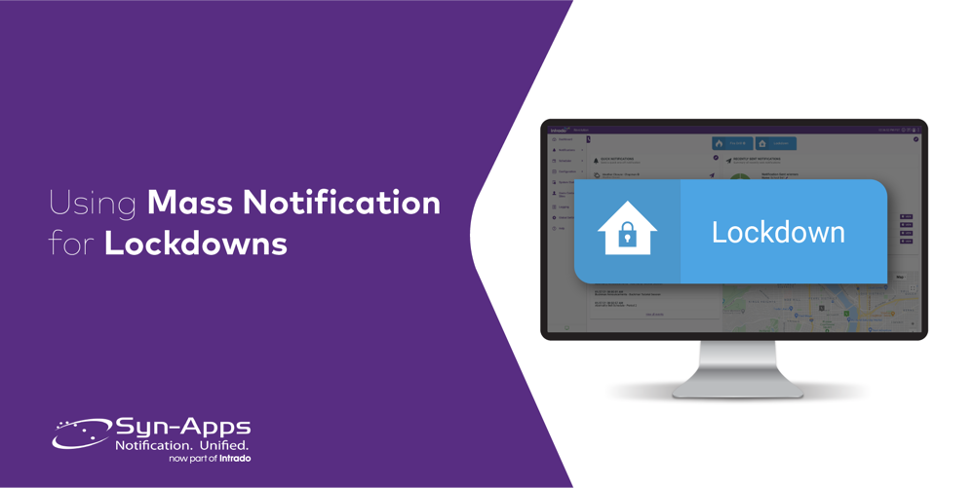 A lockdown typically takes place when there is a credible threat within the interior or exterior of a building – such as an active shooter, building intruder, or hostile employee. Without a solid plan and proper training, it can be difficult for organizations to know how and when to make the right decision to initiate a lockdown. By practicing routine lockdown drills, you can help educate employees and students within your facility the procedures to follow and where to take shelter in the event of a real lockdown emergency. Lockdown drills help organizations create a plan and test the proper mass notification tools so that people are prepared and quickly informed with what actions need to be taken in order to stay safe.

It is important for organizations to make a plan, know who your audience is, train staff, and practice running lockdown drills so everyone can safely follow proper procedures in the event of a real threat.

Mass notification systems can help simplify communication and access control procedures by allowing organizations to trigger notifications that alert the right people about a lockdown. With Revolution, you can break down communication barriers by uniting disparate technology into a centralized platform. Because every second counts, Revolution was designed with flexibility and simplicity in mind to help customers connect their people, processes, and systems.

In this article, you will learn about several Revolution features that help customers prepare for lockdown scenarios.
Five Revolution Features Your Organization Can Use:
Access Control/Initiated Door Locks
Having the ability to control building access through Revolution is an important safety tool. Revolution can integrate with access control systems (i.e. automatic doors and windows) via contact closures using a small hardware appliance such as our
Paging Relay
or Barionett 400.
For example, in the event of an active shooter on campus, an authorized user can dial an extension from their IP phone or press a dedicated panic button that would activate a Revolution notification to rapidly lock all access points via contact closure to ensure your facility is fully secure.
Analog Panic Buttons
Analog buttons can be used to activate notifications using GPIO contact closures. Revolution software can extend the life of your existing analog infrastructure by allowing you to leverage your analog and IP equipment together for mass notification. This strategy can save customers time and money because you won't have to rip and replace your equipment or train personnel on how to use a new system.
To leverage analog buttons, you'll need to connect each button to a supported contact closure device that is compatible with Revolution:
• Syn-Apps Paging Relay: Connect one analog button to Syn-Apps' Paging Relay sensor contact pin.
• Barionet 400 by Barix: Connect up to four analog buttons with the Barionet 400 to use with Revolution.
In a facility, the analog buttons can be placed in an accessible place like a hallway, gymnasium, and more, where anyone can trigger the button to alert others about a lockdown emergency situation.
Hands Free Paging
Leveraging Revolution's two-way paging intercom feature can help communicate a message quickly and effectively. It allows users to initiate hands-free communication between two talkback devices.
For example, a teacher can initiate an intercom notification between their talkback speaker by pushing a wall-button in their classroom. This action activates a Revolution intercom notification between the talkback speaker in a classroom and another speaker, such as the front office.

If a teacher is performing CPR on a student and they need to quickly communicate with the front office, the hands-free paging system is the safest and fastest way to get help rather than having to use a phone while doing CPR.
Watch this video to learn more about hands free paging.
User Interface
Another form of rapid activation can be found on the dashboard page in Revolution's user interface. The dashboard buttons enable users to quickly trigger a panic alert with the click of a button. Each user can create up to three different panic buttons on their dashboard.
For example, in any industry setting, authorized users can leverage these buttons for lockdowns, active shooter, and more. The buttons can communicate to other staff members notifying them about what type of emergency is taking place.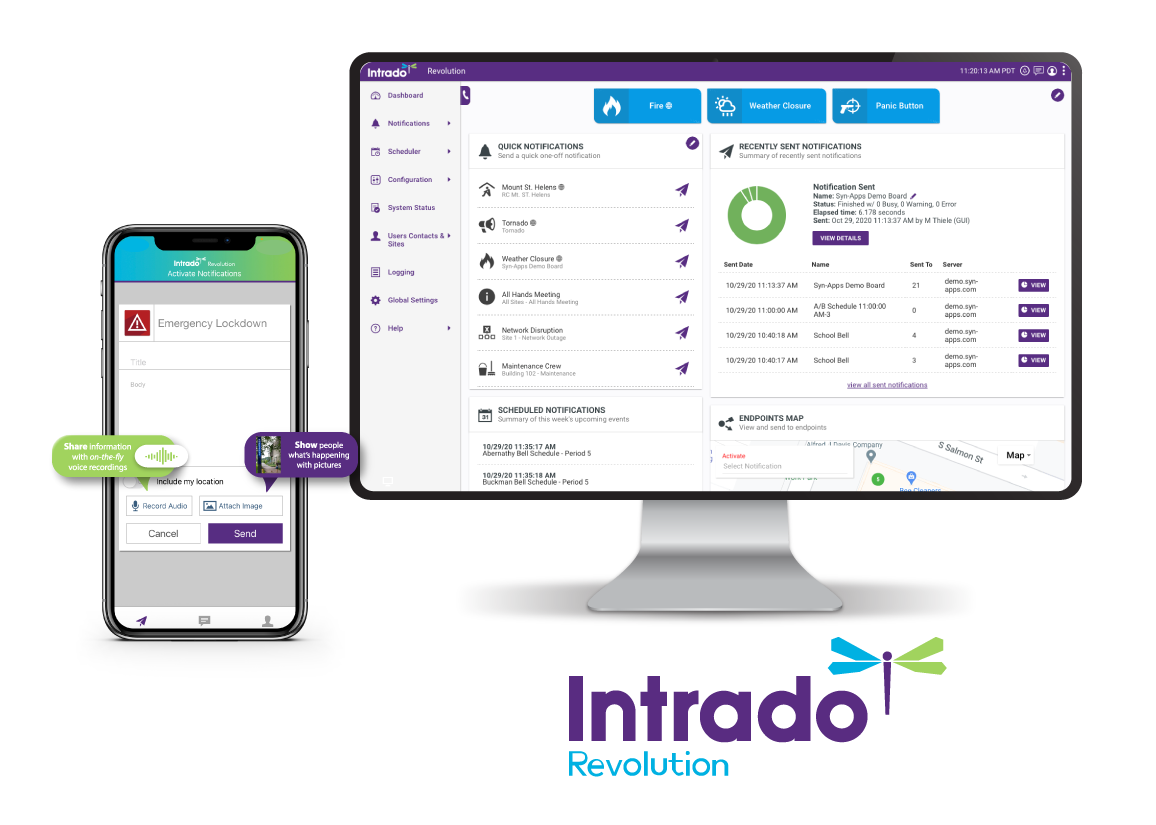 Mobile Client App
The Revolution Mobile app is an emergency notification tool that triggers mass alerts for your organization. The app allows your IOS and Android users to activate a notification in order to communicate and request help directly from their Revolution Mobile app. Users can also have the option to allow the app to use location services while running the program, which enables designated personnel to respond quicker to the situation.
In an office building, staff can use the Mobile app to send or receive notifications in case of a crisis. Since people almost always have a phone on them today, important information can be reached easily informing users and giving them the flexibile accessibility to request assistance.
Revolution provides reliable and accessible emergency mass notification solutions for your organization and its people in preparation of a lockdown. To learn more about Revolution and its features, contact Syn-Apps at
www.syn-apps.com/contact-us
or by phone at
1-866-664-6071
.