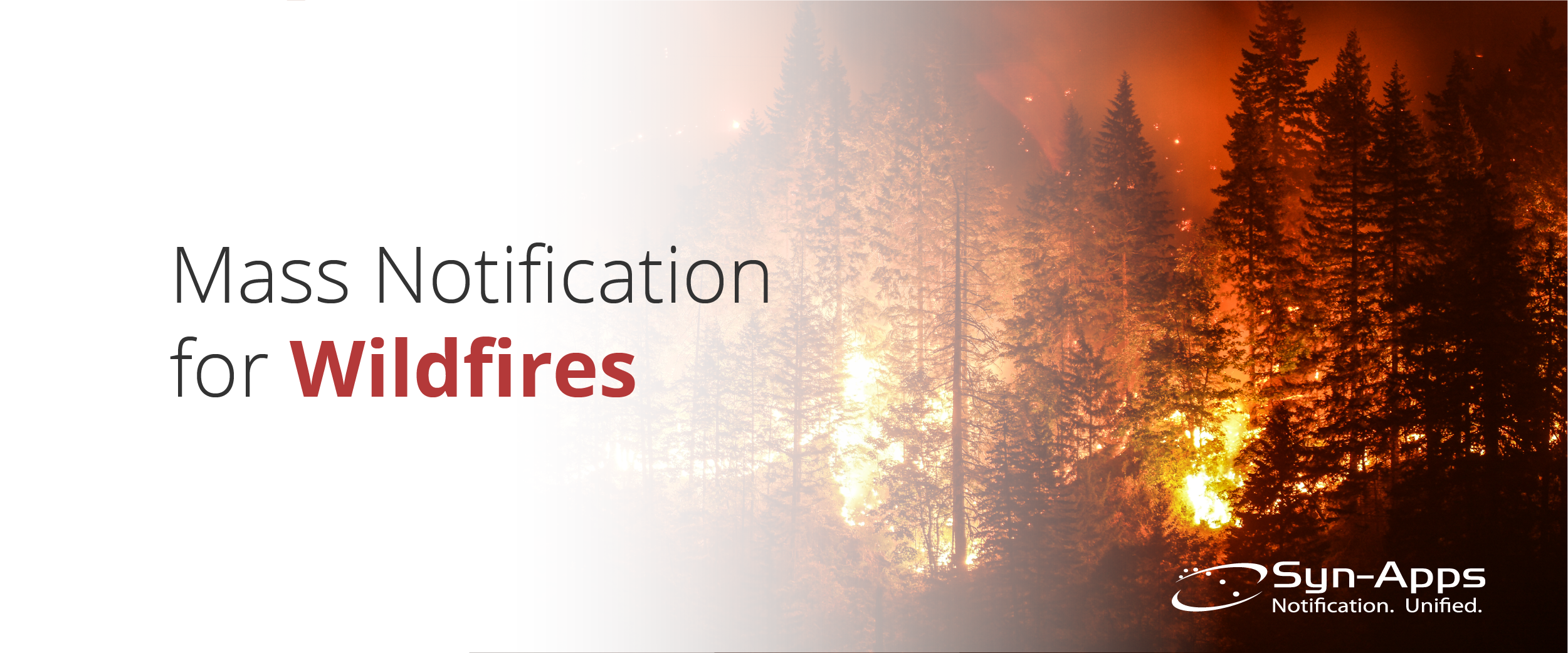 Wildfire Preparation
Wildfires can pop up anywhere at any time – especially in climates that see little rain and high winds during hot summer months. The destruction from wildfires can cost billions of dollars each year in resources and assistance being used to prevent, control and put out the fires.
With wildfire season approaching quickly, we recommend that state and local agencies residing in high-risk areas put an emergency communication plan in place in the event their community is impacted by a wildfire. Wildfires bring so much uncertainty that it's important for municipalities to be equipped with mass notification tools to effectively communicate information to their residents and protect them in the event of a wildfire.
In this blog, we will discuss how mass notification software can help organizations within your community plan for wildfire season.
Wildfire Risks
According to the
National Fire Protection Association
, wildfires burn every year across the United States and a growing number of people are living where wildfires are a real risk. In 2018, more than 58,000 fires burned nearly nine million acres across the United States. More than 25,000 structures were destroyed, including 18,137 residences and 229 commercial structures.
Mass Notification and Wildfires
Community safety should be the first thing that comes to mind when it comes to preparing for a wildfire. Every second counts during a wildfire which is why it's critical to have a reliable form of communication because wildfires can spread quickly and gives people very little time to evacuate. By having a solid action plan and the communication tools to follow your evacuation processes, your residents and visitors will be better equipped to evacuate quickly if a wildfire threatens your community.
Syn-Apps' Revolution
is an emergency mass notification system that helps rapidly communicate critical information using devices like outdoor loudspeakers, mobile phones, IP phones, digital signs, SMS text messages and more. This is useful for organizations located in an area where they are at a higher risk of a natural disasters like wildfires. Because they can suddenly occur and rapidly grow due to shifting wind conditions, mass notification software serves as an invaluable tool to communicate safety plans and evacuation orders.
Four ways to use Revolution to alert your community:
Revolution has a native integration with the National Weather Service (NWS). This helps organizations and municipalities automatically monitor their area for weather emergencies like wildfires, tornados, and hurricanes. This automation helps decision makers determine the next course of action to keep their people safe and informed.
Revolution Mobile can be used to warn internal employees and residents about fire threats, as well as the procedures that need to be taken if the situation escalates. The mobile app brings together the power of emergency alerts and mass notification software directly to your mobile devices (Android and iOS), giving you the flexibility to contact your users at any location. The message can include an optional audio recording, and image to help explain the situation more clearly.
Revolution also integrates with digital signs and outdoor loudspeakers which can be used to communicate wildfire warnings to people in high traffic areas. These communication tools help make people aware of the dangers if they're traveling through the area.
Revolution can alert people after the threat has passed. When it's safe to return, you can notify your people by leveraging features such as email alerts, Revolution Mobile, automated phone calls, social media posts, and other external notification methods. Businesses can use Revolution to inform their staff them when the facility will be operating normally again.
For more information on emergency mass notification software for wildfires, contact us at
https://www.syn-apps.com/contact-us
or by phone at 1-866-664-6071.