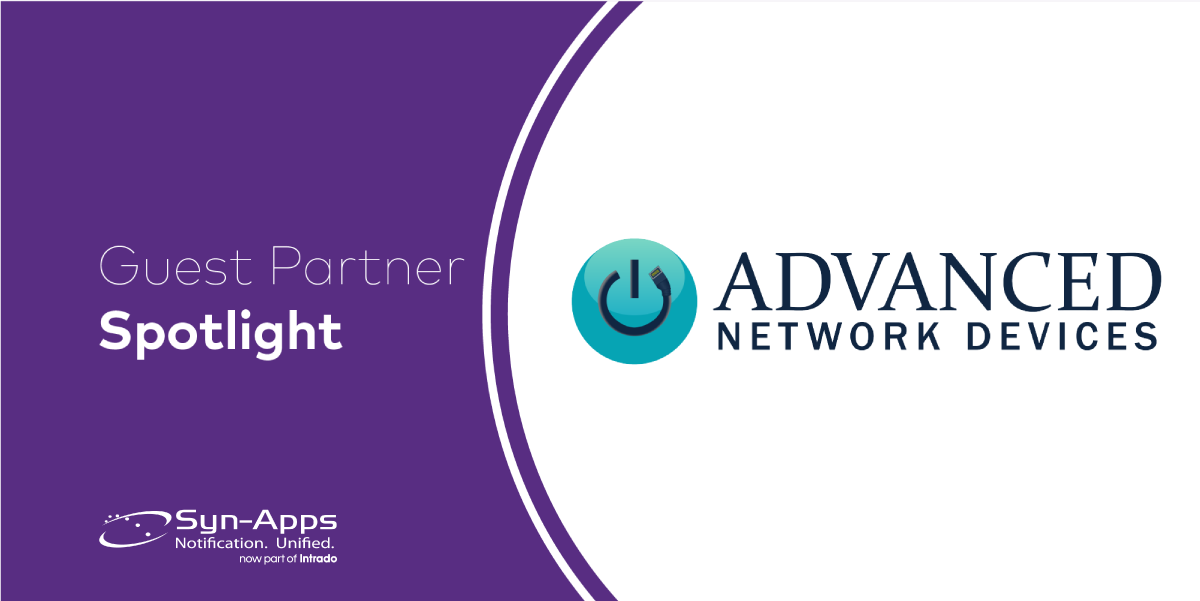 Guest Blog Spotlight
Syn-Apps, now part of Intrado, has partnered with Advanced Network Devices (ANetD) since 2010, integrating together on countless mass notification installations throughout North America. In this guest blog article, our partners from Advanced Network Devices will share five ways organizations can bundle Syn-Apps Revolution software with AnetD IP endpoint devices to provide a safer environment.
As a Syn-Apps Certified Endpoint Partner, once an Advanced Network Devices endpoint connects to the network, it automatically registers with the Syn-Apps Revolution software. This plug-and-play interoperability is designed to simplify notification management and configuration of all endpoints installed throughout a facility or campus. Facilities investing in a mass notification solution will want to understand how to fully leverage their IP endpoints within Revolution to effectively communicate to the intended audience within a building, district, or campus.
Messaging
IP endpoints with a built-in speaker, display, and flashers deliver messages visually and audibly to help ensure messages are seen and/or heard by every person throughout a room, building, or campus. Administrators can customize messages in Revolution and designate endpoints to simultaneously broadcast or display the notification on desktops, VoIP phones, email clients and collaboration tools, mobile devices, as well as IP displays and speakers.

Facilities should make sure to use customized features for text and audio available on Advanced Network Devices IP endpoints, such as:
• Configure multiple colors, font, languages, and the size of text
• Coordinate a flasher color to enhance a message
• Display pixel graphics on LED displays and high-resolution graphics and images on LCD displays
• Broadcast text-to-speech notifications
• Broadcast pre-recorded messages
• Assign priority levels to each message to override lower priority notifications

Bell Scheduling
Revolution's Scheduler tool helps organizations easily create and manage their bell schedules and designate endpoints to receive scheduled alerts. For example, school districts can use IP endpoints with displays help to ensure that all students, teachers, and staff are seeing and hearing the same bell tone, clock, and message to keep everyone on schedule and in sync throughout the day.

During passing periods, Revolution with Advanced Network Devices IP endpoints can:
• Display countdown timers to inform students when a passing period is ending
• Broadcast any song, anthem, chime, or sound
• Display text messages and images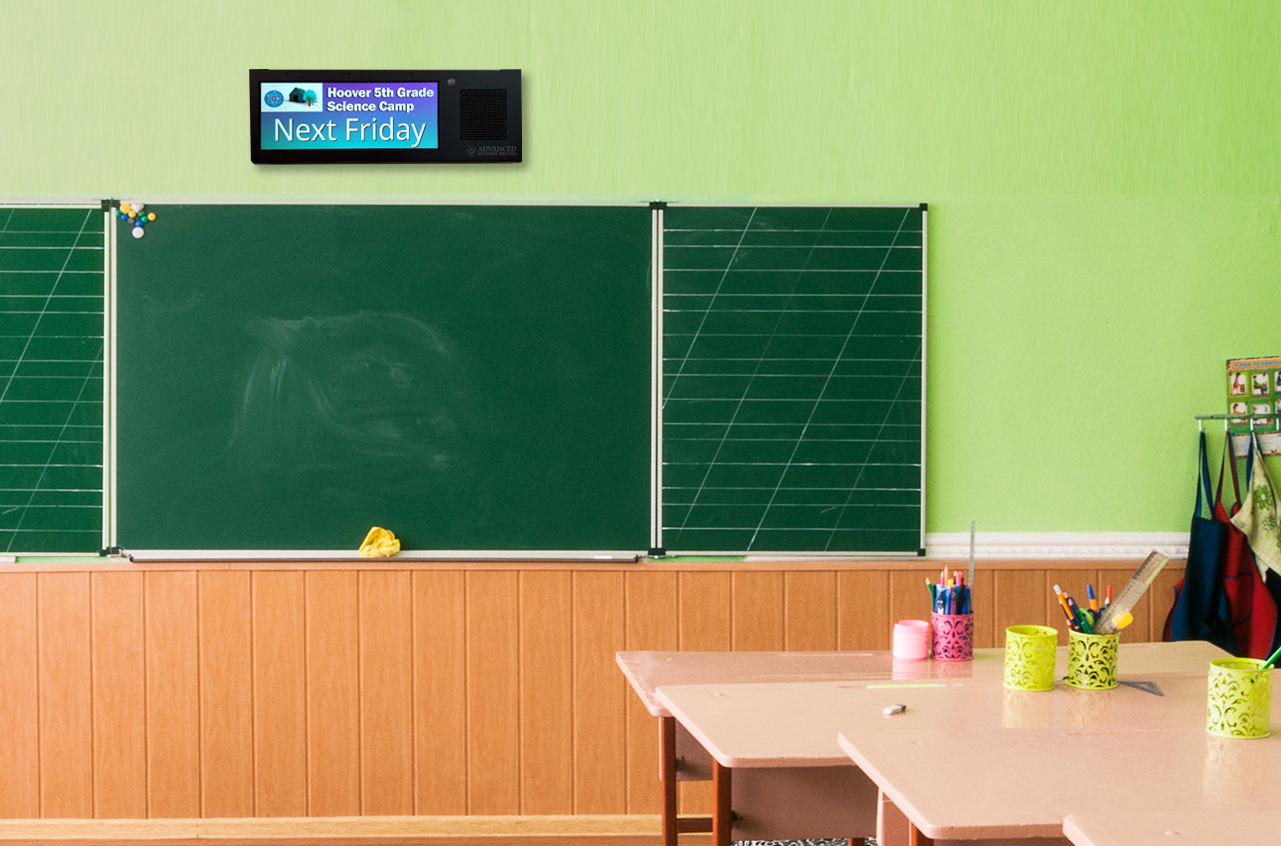 Paging and Intercom
Administrators can use Revolution to conveniently create paging zones, initiate two-way conversations using talkback devices, and broadcast messages between IP speakers, call buttons, and VoIP phones. The Advanced Network Devices product line offers many paging and intercom solutions for any budget!
• Zone controllers can convert legacy analog paging zones into IP paging zones
• All IP endpoints are SIP enabled and can act as a phone for two-way communication
• Make a call or silently activate an alert with the Button Kit with Microphone
Security Integration
Most large facilities have a mix of open and restricted access areas. As administrators and security teams plan for access control solutions and security monitoring in these environments, they should maximize their investment by leveraging their IP endpoints to their fullest potential by incorporating them as part of their security infrastructure.

Because Advanced Network Devices IP displays connect to sensors, buttons, and locks:
• Motion sensors can trigger an alert based on suspicious activity
• Door contacts can trigger an alert off a door breach
• Panic buttons can trigger a call for help
• The IP endpoint can lock or unlock a door via phone password
With Revolution configured to respond to all appropriate security protocols, IP endpoints from Advanced Network Devices on the network can send alerts to specific targets, keeping the appropriate audience informed and directing anyone in danger to safety.
Emergency Planning
Facilities planning for emergencies can benefit from all that IP endpoints have to offer, bringing all the previously detailed features to bear – from messaging to paging and security integration. Each facility may have its own particular focus when developing emergency protocols, such as regional concerns for hurricanes or tornadoes, or more specific concerns, such as healthcare facilities that need to continue providing care during an active in-progress event.

Regardless of the particular priorities, facilities should consider taking full advantage of Revolution coupled with Advanced Network Devices during emergencies, especially because IP endpoints can:
• Inform and redirect traffic during emergencies, with specific instructions going to specific devices based on their location
• Use different flashing indicator colors to help distinguish the type of emergency
• Connect hands-free two-way intercom calls for status updates
• Lock electronic locks on doors as part of a lockdown procedure
• Release magnetic holdbacks to secure safe areas
• Connect to the fire panel to take advantage of releasing fire doors during critical non-fire events when security protocols or emergency plans require areas isolated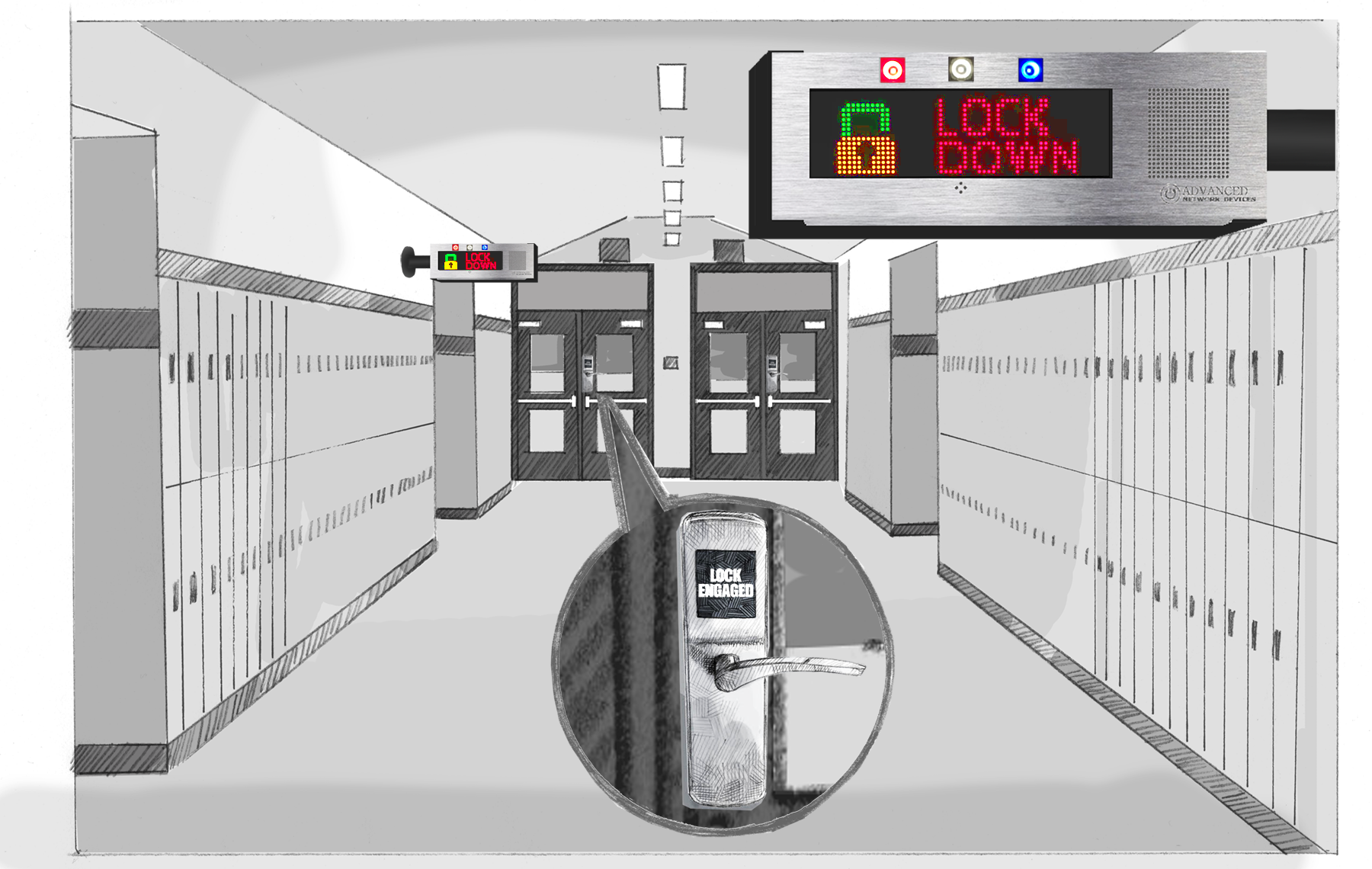 To learn more about certified Advanced Network Devices with Revolution, please visit www.syn-apps.com/certified-endpoint-partners/advanced-network-devices or by phone at 1-866-664-6071.
About our Guest Authors
Katie Kretschmar has been with Advanced Network Devices marketing department since 2018 to drive market research and increase presence and engagement on social media channels. As the Associate Marketing Manager, she now focuses on enhancing channel marketing and sales efforts through creative campaigns and marketing content.
With a background in entertainment marketing and a degree in Electrical Engineering, Dan Gorski joined Advanced Network Devices in 2017, helping develop campaigns to market new products and leading efforts to redesign the company's website. As Channel Marketing Manager, he now strategizes with channel partners so they can help customers get the most out of their mass notification solution.
About AND
Advanced Network Devices (ANetD) provides Power over Ethernet (PoE) IP devices for mass notification systems, including bright, flicker-free, multi-color displays (both LED and high-resolution LCD), as well as crisp, clear speakers. Equipped with a rich engineering pool and sophisticated technological expertise, ANetD has produced best-in-class IP communication endpoints for the education, healthcare, government, and defense industries since 2004. Contact information:
sales@anetd.com
|
847-463-2236
|
https://www.anetd.com/