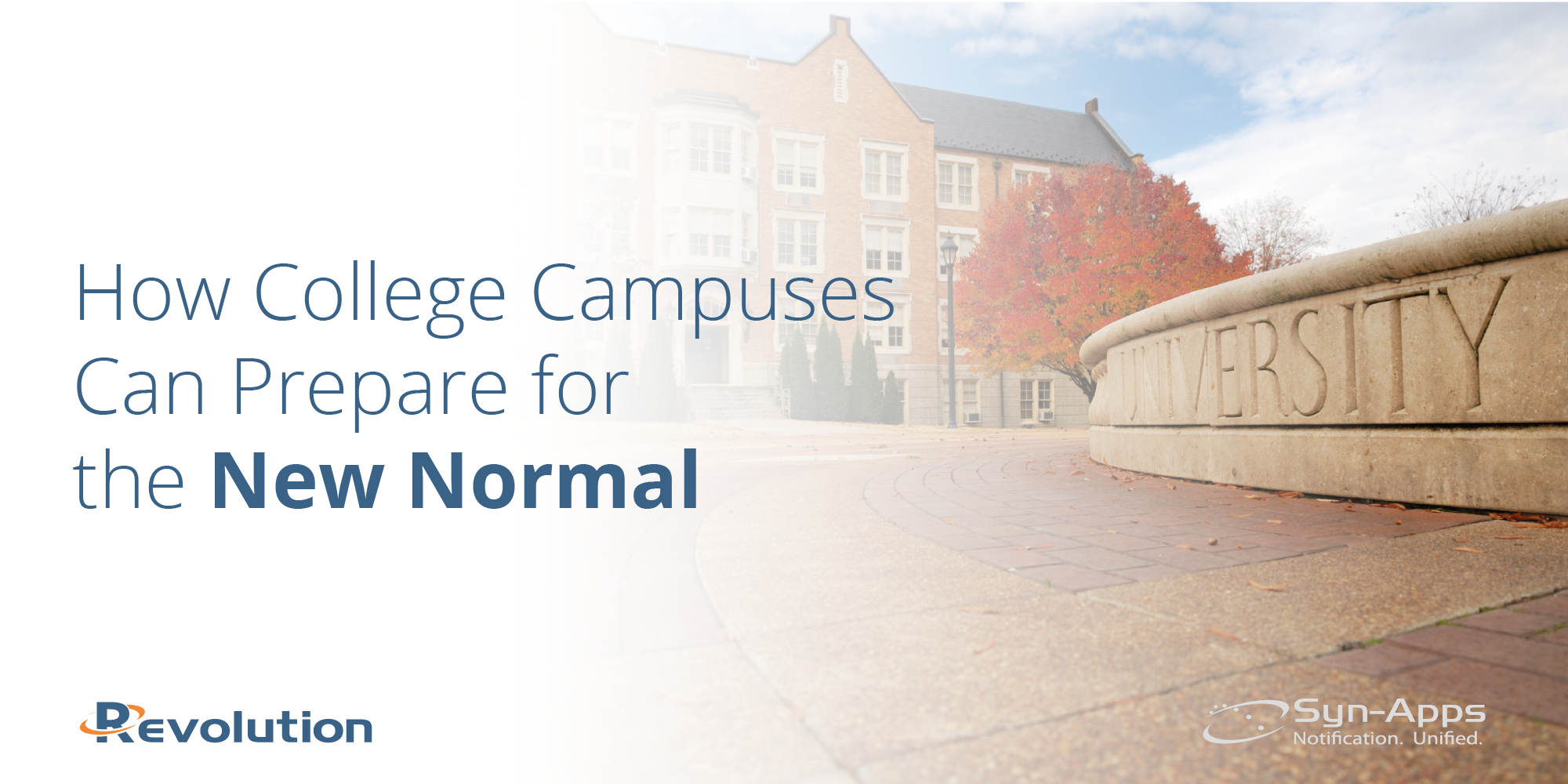 Navigating the "New Normal"
Emergency mass notification systems have traditionally been used on college campuses to inform students, faculty, and parents about emergency situations such as severe weather, school closures, and campus lockdowns. These notifications are typically sent via SMS text messages, automated calls, or email. Because of the COVID-19 global pandemic, this school year will be very different for students and teachers returning to campus this fall. Universities are having to implement safety measures like increased cleaning schedules, temperature checks, and adhere to social distancing guidelines to ensure students and faculty can safely return to the classroom. There's also been a shift in the way schools are leveraging their mass notification systems during COVID.

In this blog, we'll outline a few ways colleges and universities can expand the use of their mass notification technology to help transition into "the new normal."
Mobile, Email & Voice Alerts
Universities can rapidly share facility information, such as a building closure or classroom changes, using mobile, email, and automated voice alerts.

Emergency mass notification software like Revolution can help people stay informed with push notifications via Revolution Mobile, SMS text messages, email, and automated phone calls. For example, if a classroom or building needs to be closed for sanitation, school authorities can activate a notification to share schedule changes with students and faculty (i.e. alternative building, classroom, and updated time to report for class). Further, schools can use the Revolution Mobile geofence feature to send timely information to people that are located inside or outside of their designated geofence boundary.

These tools can also be used to alert faculty and staff if someone they may have come in contact with tests positive for COVID-19, without divulging any sensitive information about the individual.

Notifying people with off-premise notification methods, such as mobile and email alerts, is important because it helps ensure they receive the message in ample time.
Digital Display Signs for Routine Reminders About COVID
Another way schools are sharing safety protocols with large groups of people is through digital display signs and scrolling marquees. These attention-grabbing devices can be used to remind people to wear their mask, social distance, and stay home if they are feeling sick with COVID symptoms. Digital signs are typically placed in public areas, such as cafeterias, dorm hallways and lobbies, so they can be a great tool to make sure your message is seen.

Revolution can integrate with multiple digital display manufacturers, including Adaptive Micro Systems, Advanced Network Devices, Atlas IED, and Valcom. Revolution customers can customize their notifications with custom verbiage, schedule frequency, and even include images and set font colors on supported devices. For more on digital display integrations, visit https://www.syn-apps.com/certified-endpoint-partners.

For more information about Revolution, contact Syn-Apps Sales team at www.syn-apps.com/contact-us or by phone at 1-866-664-6071. For information about COVID-19 safety protocols, visit http://cdc.gov/.