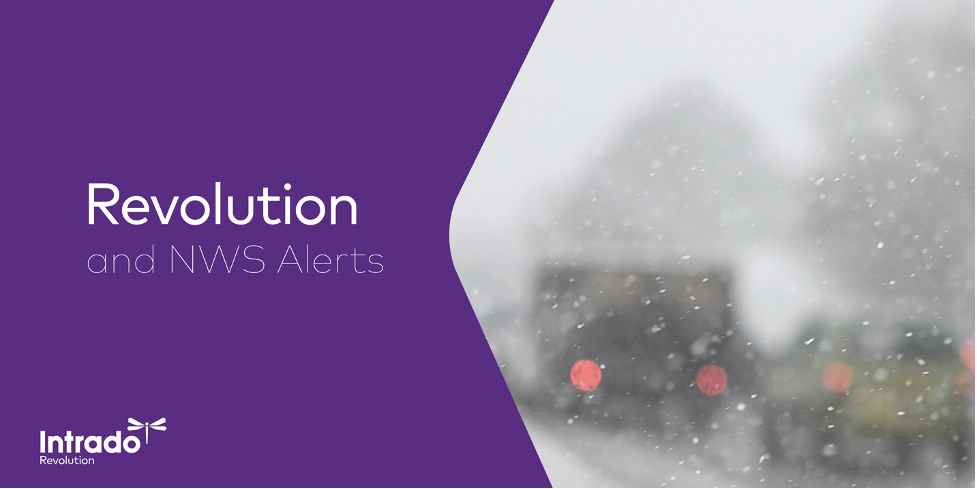 Revolution is an emergency mass notification software solution that unites disparate technologies into a centralized platform and gives people the ability to communicate quickly by delivering notifications to the right people at the right time. Robust mass notification tools, like Revolution, support communities and businesses by helping people make safe and informed decisions about inclement weather. This software provides the tools businesses need to reach their people both within the facility and remote.

In this blog, we will explain how Revolution integrates with the National Weather Service (NWS) to help your organization and its people stay prepared for winter weather.
Integrating Revolution with the National Weather Service
Revolution can receive weather notifications by integrating with NWS CAP (Common Alerting Protocol) feeds. This helps customers monitor weather activity in their geographic area to receive automatic notifications in the event of a winter weather emergency. Authorized users can use the predefined filters built in Revolution to determine the type of weather events they want to monitor, as well as the risk severity (i.e.
watch, warning, statements
).
This integration helps decision makers determine the next course of action, such as to seek shelter immediately or make a business decision to close early. Automated alerts can save time and resources because it eliminates the need for a person to manually monitor local weather and notify personnel. This is critical during emergencies because every second counts.
Communicating Winter Weather Emergencies Using Revolution
• IP Phones & Desktop Alerts – Revolution notifications can be delivered to decision makers and employees located on-premise by sending alerts directly to their IP phones or desktop computers. These pop-up alerts can contain text, audio and images to warn employees of the winter weather. In addition, you can also send alerts to digital displays, IP speakers, strobes, and other physical devices located within your facility.
• Revolution Mobile Alerts with Geofencing – Revolution Mobile app can be used to send geo-targeted alerts to your recipients, such as employees, students or parents. Revolution admins can create geofences to send winter weather alerts to reach people located on campus notifying them of early closures due to a winter storm. Users can also simultaneously send a separate targeted alert to mobile app recipients located outside of the geofence warning them to not come to campus. Revolution Mobile is available on the Apple Store and Google Play.
• Email, SMS, & Outbound Calls – Revolution can also send alerts via email, SMS* or outbound calls*. In addition, you can request responses from recipients, which are recorded in Revolution and can be reported on for visibility.
*SMS and Outbound Dialer requires a third-party service, such as Clickatell or Twilio.
Watch this video to learn more about how Revolution integrates with National Weather Service CAP Alerts.
For more information about how Revolution can help your organization stay safe and informed during winter weather, contact Syn-Apps at
www.syn-apps.com/contact-us
or by phone at
1-866-664-6071
.