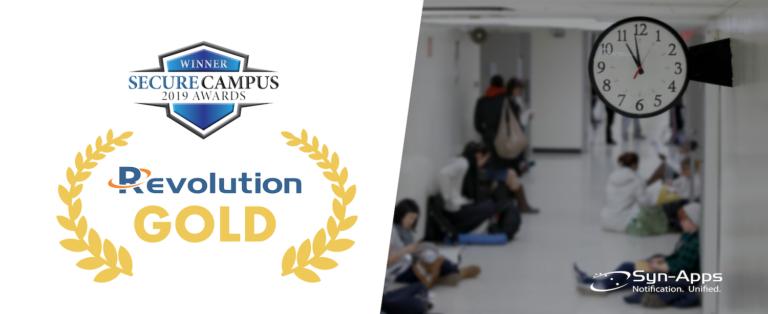 Portland, OR – April 12, 2019 —  Syn-Apps LLC, a pioneer in emergency mass notification solutions, announced today that it has been awarded the 2019 Secure Campus Awards at ISC West. The award, which is issued by Campus Security & Life Safety magazine, recognizes vendors whose products demonstrate outstanding achievements in improving campus safety and security.
Syn-Apps' Revolution notification software received a Gold designation in the Emergency Notification / Mass Notification category. Participating vendors were evaluated by an independent panel of judges from the security industry. Winning participants were selected based on criteria such as Features, Innovation, User Friendliness, Interoperability, Quality, Design, Market Opportunity and Impact in the Security Industry, Technical Advances, and Scalability.
Revolution is a unified notification platform used by K-12, higher education, government, healthcare, and enterprise organizations to rapidly communicate information to people located on- or off-premise. The software integrates with disparate technologies such as PBX systems, IP and analog systems, digital signs, desktops, mobile devices, fire alarm panels, access control systems, and various third-party systems. Using its single console to manage notifications, Revolution helps customers streamline their communication processes for emergency alerts, mass notification, bell scheduling, and facility-wide paging.
"Our team has dedicated the last 18 years to designing reliable mass notification solutions that help customers keep their people safe and informed," said Marie Thiele, Marketing Manager for Syn-Apps LLC. "We are honored to receive this award and appreciate the recognition of our Revolution software as an industry-leading solution in the market."
About Syn-Apps LLC
Syn-Apps is a leader in paging and mass notification solutions designed to improve business processes, increase safety, and streamline internal and external communication. Since 2001, thousands of organizations have integrated Syn-Apps' notification solutions with phones, paging systems, IP speakers, and hundreds of other internal systems and services.
Our customer deployments span across 35+ countries and range in verticals such as K-12, Higher Education, Government institutions, Enterprise, Retail, Healthcare, and more. We are also an OEM manufacturer of mass notification software for several Fortune 500 global companies in the Fire / Life Safety and VoIP Communications industry. For more information, visit https://www.syn-apps.com  or by phone at 1-866-664-6071.