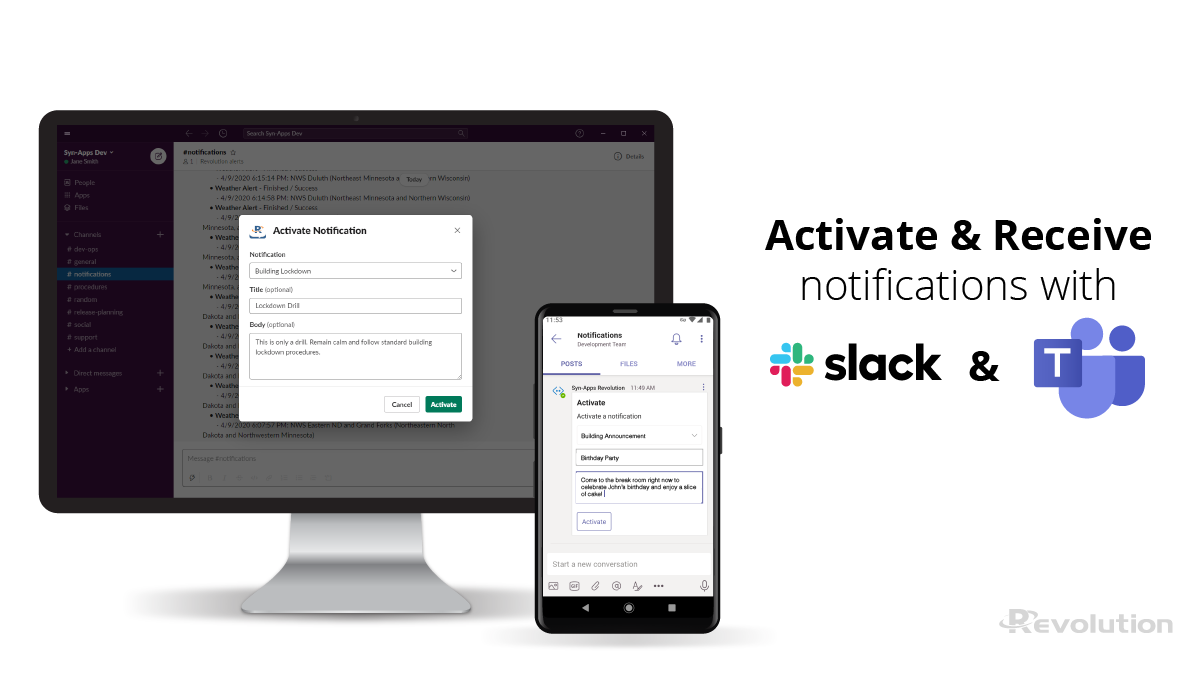 How Collaboration Tools Work with Revolution
Syn-Apps recently introduced a collaboration tool module in its
Revolution 2020.1 software release
that integrates with Slack and Microsoft Teams. Customers can now initiate and receive Revolution notifications through these two platforms. When a notification is sent to a Slack or Teams channel, the members will receive details about the situation taking place and can discuss the incident directly within the channel. Users also have the option to activate another Revolution notification directly from within the collaboration channel.
Helping Employers Communicate with Remote Workers During COVID-19 Using Slack and Teams
Revolution's collaboration tool integration brings flexibility and connectivity to your organization, allowing you to reach your remote employees in the event of an emergency, local weather alerts, or share routine reminders. By connecting Revolution with the collaboration tools your team already uses on daily basis, you're enabling employees to stay connected with tools they're already comfortable using. So no matter where your employees are located – at their office, working from home, or on-the-go, you can rest assured that your Revolution notification will reach your personnel.
The pandemic has changed the way many employees work and collaborate but with the power of Revolution combined with Microsoft Teams and Slack, you can rest assured that you'll be just as connected as you were before with your personnel.
More on Revolution
Syn-Apps Revolution software
is an emergency mass notification software platform used by customers around the world to rapidly communicate time-sensitive information and take action during a crisis. In addition, the software can be used for non-emergency situations like routine overhead paging, bell scheduling, and more.
This software also allows users to inform the right people at the right time to receive immediate assistance from first responders or security personnel. Whether located on- or off-premise, Revolution allows senders to initiate mass notifications to alert people using live, pre-recorded, or scheduled broadcasts delivered to IP phones, mobile devices, overhead IP & analog speakers, loud horns, digital signs, SMS, and more.
Syn-Apps can help your organization unify your technology and people to produce dependable communication in order to save lives. Contact Syn-Apps Sales to learn how Revolution can help your organization:
www.syn-apps.com/contact-us/
or by phone at
1-866-664-6071
.