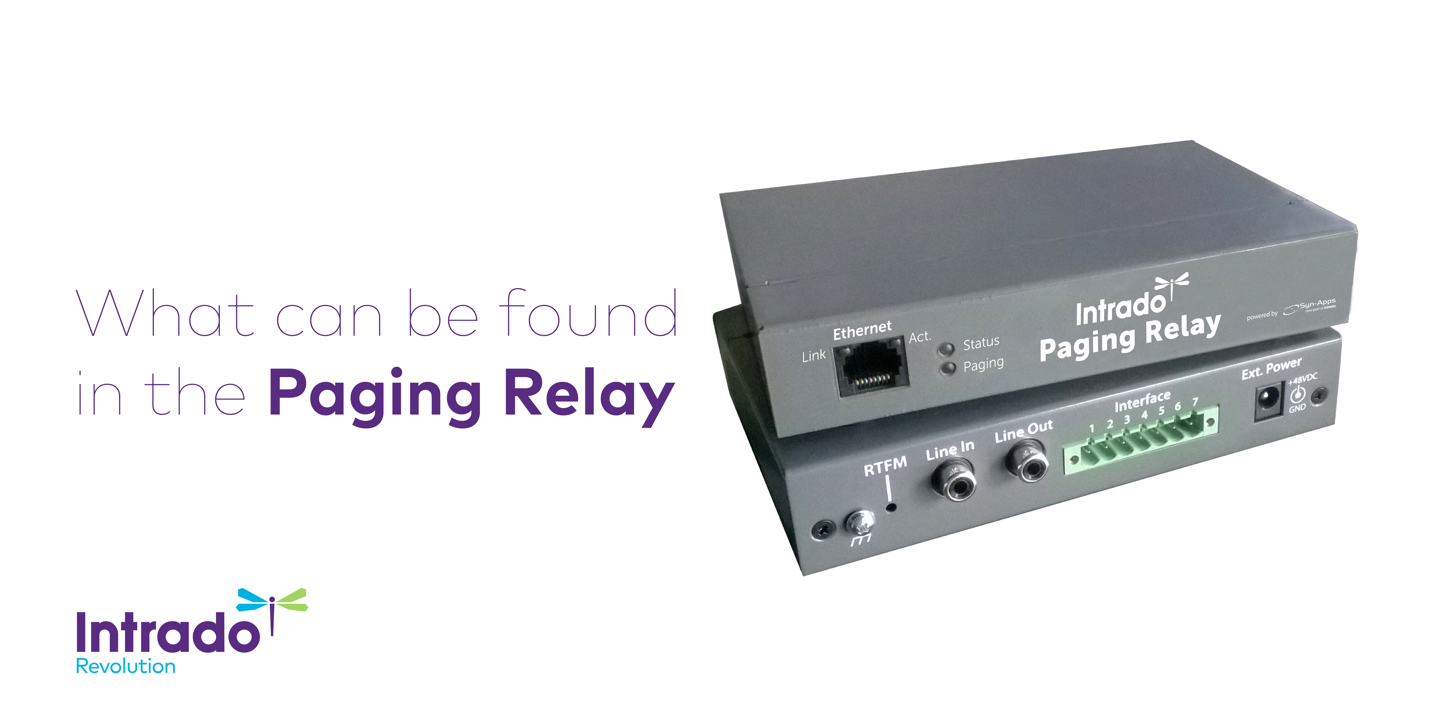 Intrado's Paging Relay is a patented PoE network appliance that provides critical communication functionality that many organizations need to effectively share information with personnel. This device is small enough to hold in one hand and features plug-and-play technology, making installation as simple as connecting it to your network by plugging it into an ethernet cable.
In this blog, you'll learn about the Paging Relay's primary features and how they help customers meet their various notification needs.
Five Paging Relay Features Include:
1. Unicast-to-Multicast Conversion
One of the Paging Relay's most notable features is its patented unicast-to-multicast conversion which is primarily used by customers that have a unicast network to deliver Revolution notifications to endpoints (e.g. phones, speakers, desktops) located across their buildings. Without this solution, customers would need a separate Revolution server to manage notifications for each building. This feature reduces bandwidth consumption by converting bandwidth-intensive unicast audio streams into multicast across the WAN and delivers crisp, intelligible audio to its destination endpoints like IP phones, IP speakers and traditional PA systems at a fraction of the cost.

For more information on this feature, refer to this article
2. Analog PA Systems
Another noteworthy use case is the Paging Relay's ability to integrate with existing analog PA system / speakers! Or be used with a temporary PA system to broadcast announcements at an event. Integrating with this device allows users to send notifications simultaneously to analog and IP equipment across their network.

For example, many facilities still have analog overhead speaker systems that work fine but just run on older technology. The Paging Relay device is an ideal solution for customers that want to modernize their PA equipment but may not have the resources to do so. Rather than purchasing new IP speaker hardware, customers can integrate a Paging Relay with their analog system to simultaneously deliver notifications from Revolution to your analog speakers.

Paging Relays work with single zone analog systems by integrating via 600ohm paging amplifiers or RCA line-out ports for overhead paging and analog systems.
3. Music Capabilities
Background Music:
The Paging Relay accepts audio from any standard external device to stream music through IP or analog speakers. This is especially useful in common areas, like lobbies, hallways, waiting rooms, retail floors, and more. The device also includes an automatic gating feature that pauses background music when Revolution notifications are active and automatically resumes the music when the alert is finished.
Music on Hold:
The Paging Relay also has the option to set up music to be played when a call is placed on hold or when a call goes into a waiting queue.
4. Contact Closure Integration
Relay Contact Closure:
This is used to interface between the Paging Relay and third-party systems that require a contact closure to take some form of action such as locking or unlocking windows and doors connected to controlled building access systems, activating / deactivating sensors, lights, strobes, and more. The Relay Contact Closure GPO pins can also activate Fire Panel alerts from Revolution.
Sensor Contact Closure:
This is used to trigger the Paging Relay to play an audio file when an external switch closes its connection. For example, playing an audio chime when motion sensors detect someone walking in or out of your building door to alert store personnel if a customer pushes an in-aisle assistance button. The Sensor Contact Closure GPI pins can also be used to detect when a Fire Alarm Panel has been activated, which can subsequently trigger Revolution to activate a mass notification alert. For more information on these two features, refer to this
article
5. Remote Site Failover Paging
The Paging Relay Remote Site Failover functionality provides true fault-tolerance protection in the event of a WAN outage. This feature is particularly beneficial for customers with remote locations that always require connectivity and need contingency communication plans in the event of network disruptions. If your system goes down, the Paging Relay allows you to broadcast live paging to up to 500 Cisco phones.

For more information on this feature, refer to this article.
The Paging Relay device helps customers save money by leveraging existing network infrastructure and allows you to continue using existing technology. For more information about Revolution and Paging Relay, contact us at
www.syn-apps.com/contact-us
or by phone at
1-866-664-6071
.