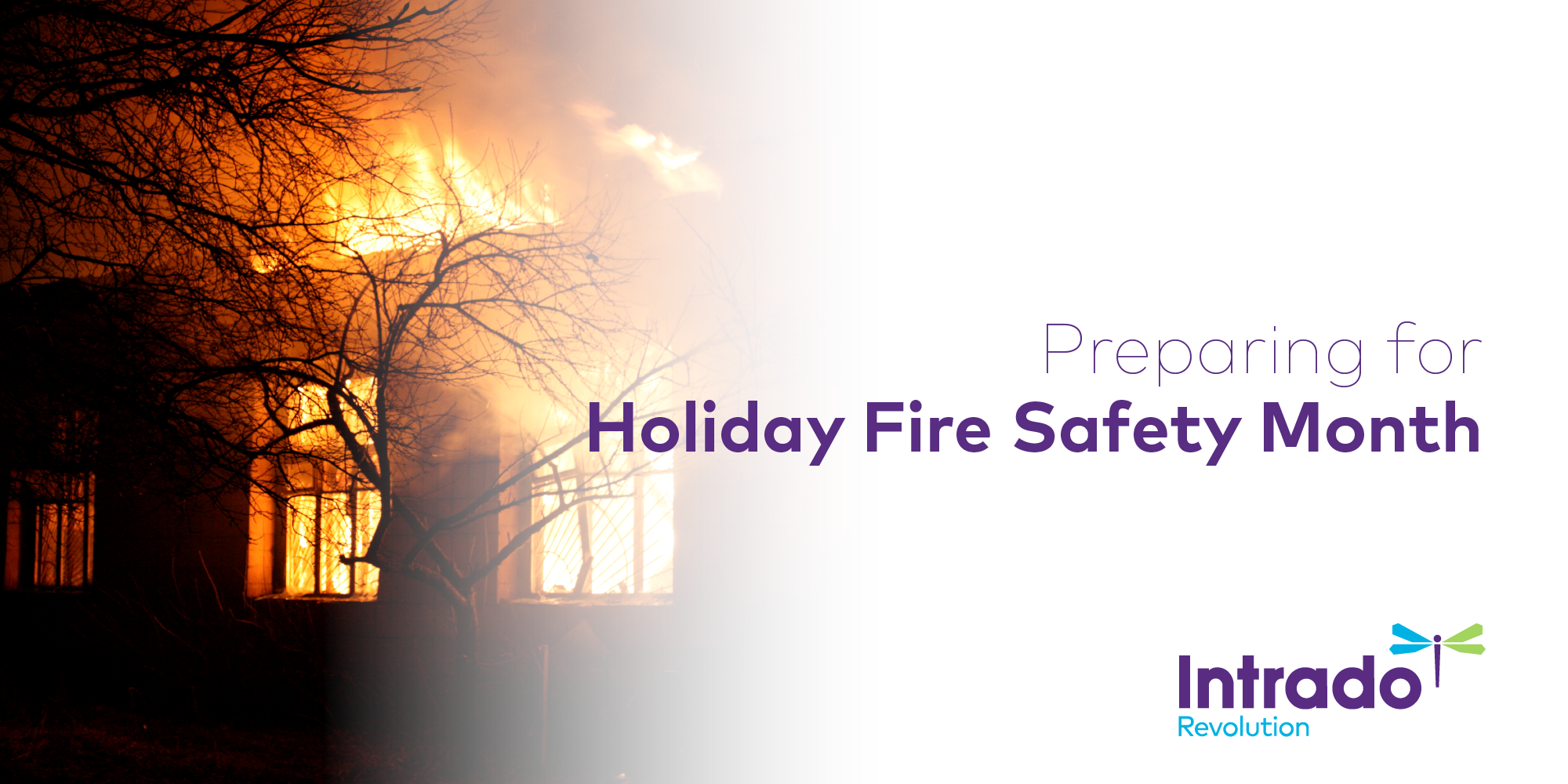 December is Holiday Fire Safety month in the United States. With the holidays approaching, the risk of a fire increases because of the use of holiday office lights, personal space heaters, and more. Keeping your organization safe from preventable fires requires preparing, planning, education, and the right mass notification tools. Mass notification systems like Intrado Revolution can help keep your people aware and informed when an emergency happens.

Intrado Revolution is an emergency mass notification system that helps radily communicate important information to users located within buildings and beyond using communication tools such as mobile push notifications, IP phones, overhead speakers, digital displays, automated phone calls, SMS text alerts, and many more.

In this blog, you'll learn about eight mass notification use cases that can help your organization and its people stay safe in the event of a fire incident.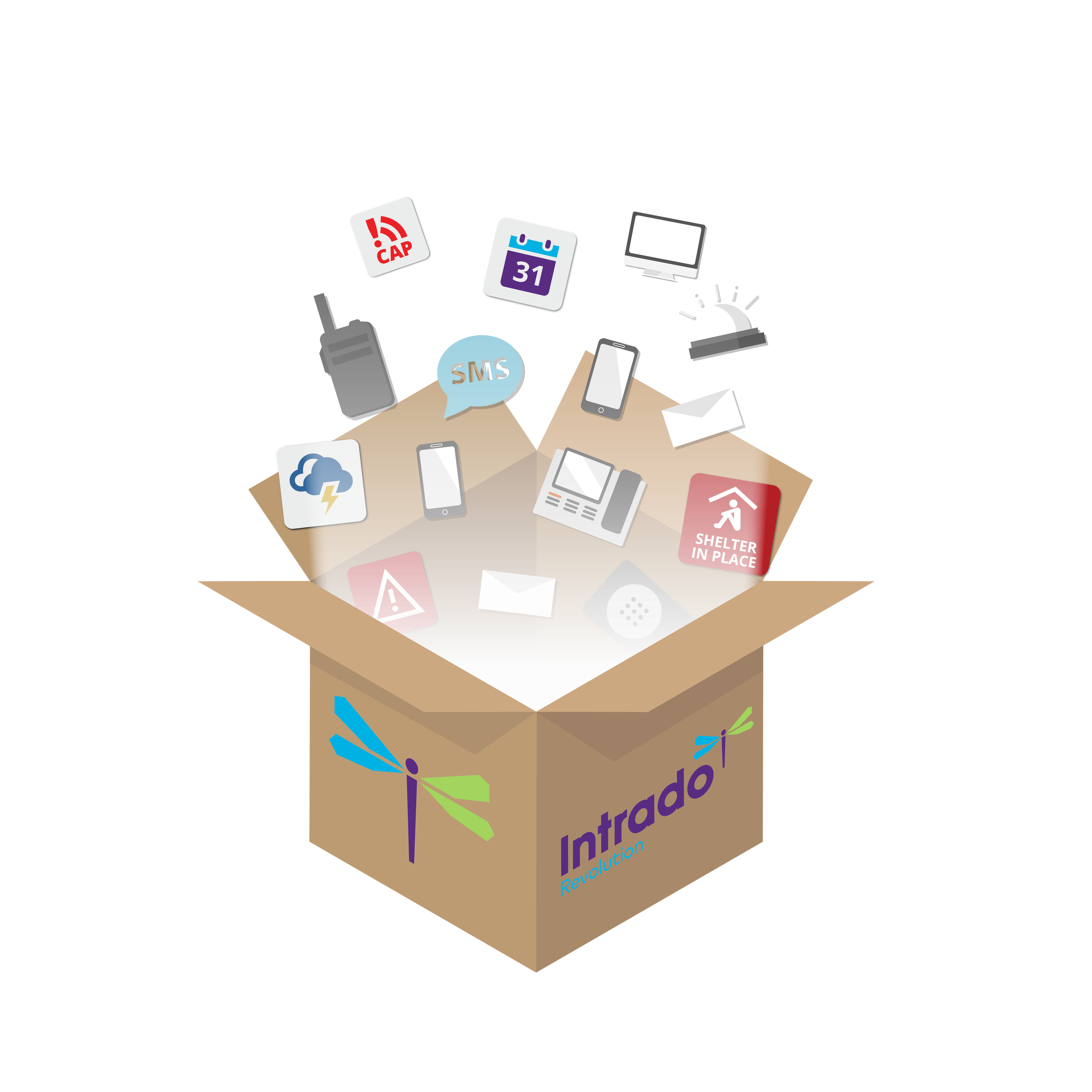 8 On-Premises Mass Notification Use Cases:
• Fire Alarm Panel Integration – Integrating control systems and fire alarm panels can help communicate an emergency such as a fire, and protect an organization and its people. When these solutions work together, they significantly narrow the time between detection and incident resolution.
• In-Building Paging – Broadcast live, pre-recorded or text-to-speech alerts across overhead speakers, IP phones, desktops, digital signage, and more to quickly inform people about a fire situation located within your organization's facility.
• Panic Button and Notification Activation from Desktop Client – The Revolution Desktop Notification Client (DNC) supports triggering notifications directly from your DNC application. You can also configure the DNC to support a panic button in the Windows notification tray so that users can quickly alert people during an emergency. For example, the panic button can be used if there is a fire starting in the building you are located in and you need immediate assistance.
• Response Check-In's – With response check-ins, recipients can acknowledge or respond to your Revolution notifications using a supported device like an IP phone, desktop notification, or mobile alert. You can use response options as a check-in from your end users in emergency situations like a fire. For example, your organization could send out an emergency notification that asks employees "Are you safe?" and they can respond "Yes" or "No, please send for help."
• Revolution Mobile/Geofence – Revolution Mobile is an app that provides emergency alerts and mass notification software directly to your recipients' mobile devices (iOS & Android). This technology gives you the ability to alert users wherever they may be located with the option of including audio recording and images to help explain the fire emergency. Revolution Mobile supports geofencing so you can rest assured that you're sending relevant alerts about the incident based on the user's current location. Revolution Mobile can be used to warn internal employees about fire threats as well as procedures that need to be taken if that situation escalates.
• Safety Shield Integration – Intrado Revolution offers bi-directional integration with Intrado Safety Shield, our safety management platform, to activate the appropriate incident response protocols. Safety Shield initiates automated workflows, checklists, notifications and alerts critical personnel.

Safety Shield delivers important information about the situation in-line with a 9-1-1 call directly to the appropriate 9-1-1 call center, emergency dispatcher and first responders. Intrado technology is in place in more than half of the 9-1-1 call centers across North America, is trusted by tens of thousands of organizations, and touches more than 90% of the 9-1-1 calls in North America.
• Slack + Microsoft Teams Collaboration Integration – Utilizing tools that your personnel routinely use and are already familiar with using is a great way to share pertinent information. You can relay information through Slack and Microsoft Teams collaboration channels about a fire incident taking place. Businesses can use Revolution to inform their staff about the situation.
• Visual Alerts – Strobes and digital signs are a useful tool that can visually alert people of a fire incident. These features can grab attention informing people where to go and what to do during an emergency. This tool can also notify those who are hearing impaired.
To learn more about how mass notification systems can help your organization, contact us at www.syn-apps.com/contact-us or by phone at 1-866-664-6071