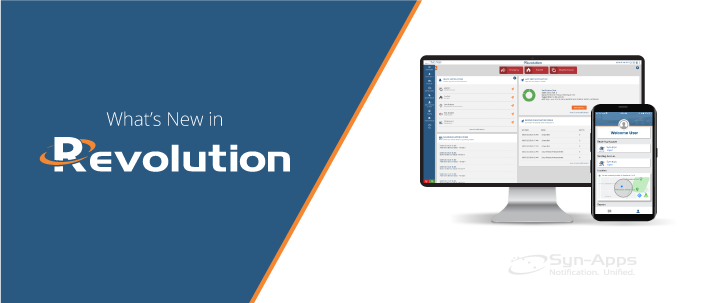 We recently rolled out our quarterly software release, Revolution 2020.2, giving customers access to a number of new key features and product enhancements. In this blog, we'll cover the new and exciting features that are now available in our latest release and give you exclusive access to watch our on-demand webcast demonstrating these new tools!
1. Location Aware Mobile and Dial Monitoring Enhancements
Dial Monitoring is a life & safety feature that was first introduced in the 2018.2 release. This feature helps US customers comply with the new Kari's Law by alerting designated personnel when 911 is dialed from a network phone.

This latest software release added enhancements that allows users to report on additional location information from endpoints and mobile triggers.
2. Multi-Site Users
Revolution's Site feature gives admins the ability to assign users, notifications, endpoints, triggers, and calendar schedules to a specific site. When it comes to assigning users, this gives administrators additional security and peace of mind because it helps restrict user accessibility to the software (i.e. the user can only access notifications within their designated site).

We've improved this feature in 2020.2 by rolling out Multi-Site Users. Admins can now assign users to multiple sites instead of just one. This is an incredibly important enhancement for users that oversee multiple buildings or departments but should not have access to all sites within Revolution.
3. Notification Actions
Notification Actions is a brand-new feature that gives customers the ability to automate follow-up actions based on a notification response or status. This type of automation helps strengthen communication processes because it removes the need for human interaction. This is especially helpful for streamlining emergency mass notification processes because every second matters. Use cases include:
• Escalating security issues
• Sending an all-clear notification at the end of a lockdown
• Splitting large notifications into subgroups
• Sending notification responses to an incident response team
Discover More
Watch the on-demand webcast to explore what's new in Revolution 2020.2 and catch up on the features added in 2020.1!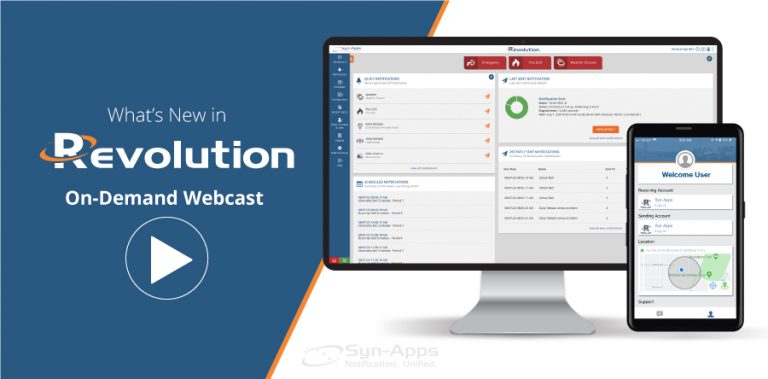 Stay tuned for our quarterly releases! For more information, contact Syn-Apps Sales to learn how Revolution can help your business: www.syn-apps.com/contact-us or by phone at 1-866-664-6071.