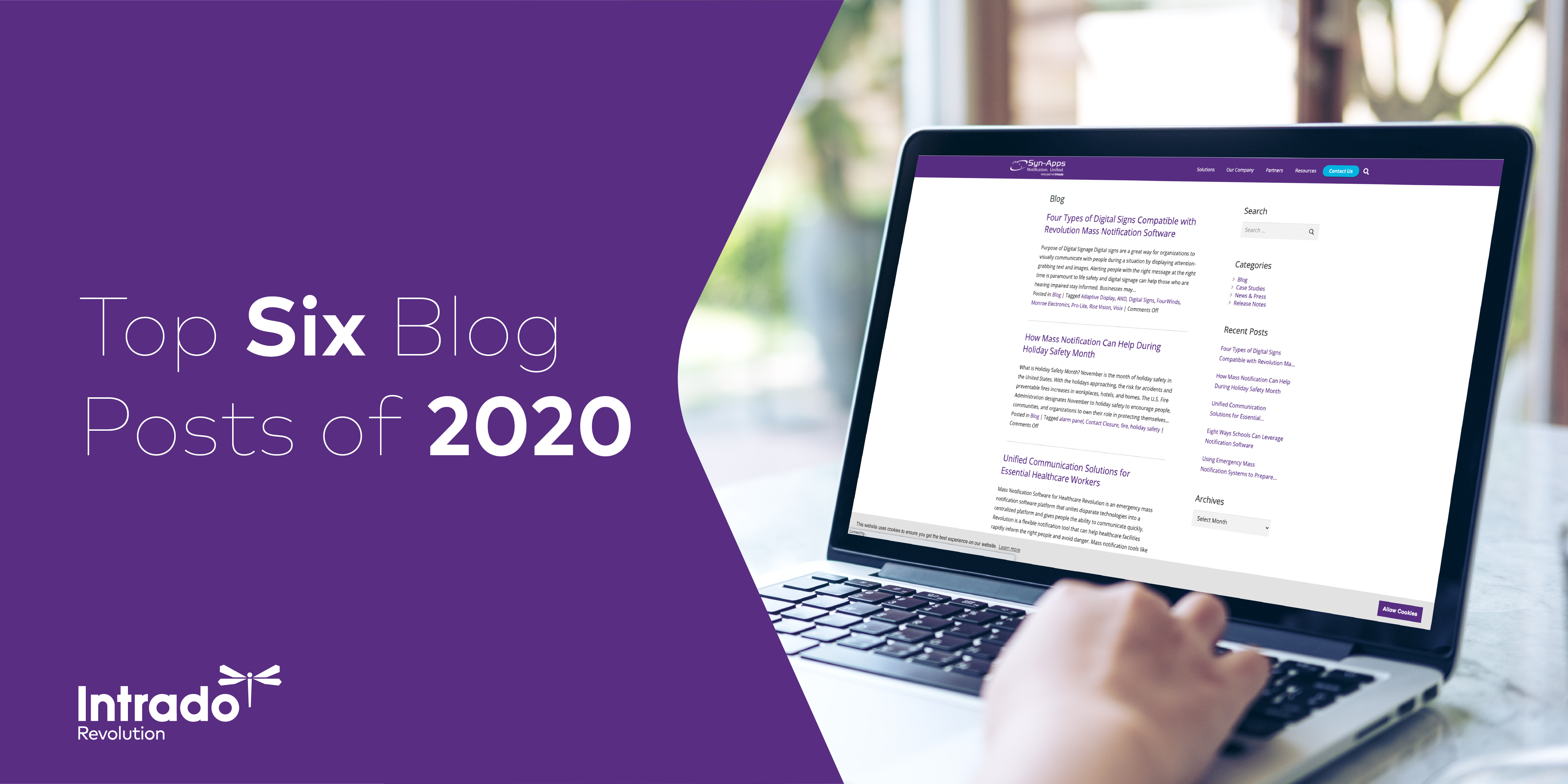 Now more than ever, we need to keep people connected and informed. Over the past year, we've shared several blog articles to help customers better understand the emergency mass notification industry and how our solutions can help solve your notification needs.

Our blog topics focused on trending safety matters, product and partner integrations, software updates, mass notification use cases broken down by various industries, and more. We plan to publish more blog articles in 2021 because we are dedicated to continue sharing important mass notification topics with viewers like you!

In this blog article, we'll recap our six most popular posts that were read by viewers like you in 2020!
#1 – Helping Customers Stay Compliant with Kari's Law
This has been a hot topic for U.S.-based customers because they've been preparing for Kari's Law to go into effect. The new law, which went into effect on February 16, 2020, requires all organizations with multi-line telephone systems in the U.S. to allow direct dialing to 9-1-1 without having to dial a prefix number to dial out. The statute requires multiple communication components be available to the public, such as direct dialing and direct routing. In this blog, we cover how Revolution provides features such as Dial Monitoring and how it can alert internal personnel when a predetermined number (9-1-1) is dialed from a phone. Read More…
#2 – Staying Informed and Aware with Revolution Mobile App
Revolution Mobile is an app that brings the power of Revolution's emergency alert and mass notification software directly to iOS and Android mobile devices. This gives you flexibility to reach your users wherever they may be located. In this article, we explain how Revolution Mobile works along with the value it can bring to your organization. Read More…
#3 – How Converting Unicast into Multicast Can Optimize Your Network
Syn-Apps' Paging Relay is a small, patented PoE network appliance that provides customers with a number of communication solutions. This device has the ability to significantly reduce bandwidth consumption by converting incoming unicast audio streams into multicast to destination sites across the WAN. In this blog, we cover the conversion of unicast to multicast. Read More…
#4 – Using Mass Notification Software to Keep People Connected and Informed During a Pandemic
Mass notification tools, like Revolution, can help mitigate the impact of COVID-19 and help people and organizations communicate. In this blog post, we outline the impact of the coronavirus and how emergency mass notification systems can make a difference during a pandemic. Read More…
#5 – Keeping Residents Informed During Wildfire Season with Mass Notification Systems
Mass notification systems are useful for organizations located in an area where they are at a higher risk of a natural disaster like a wildfire. Because they can suddenly occur and rapidly grow due to shifting wind conditions, mass notification software serves as an individual tool to communicate safety plans and evacuation orders. In this blog, we discuss several ways on how mass notification can help organizations within your community plan for wildfire season. Read More…
#6 – Six Ways to Incorporate Panic Buttons in Your Emergency Mass Notification Strategy
Organizations should consider adding discrete alerting methods, such as panic buttons, to their emergency notification plan. In this blog article, you'll learn about six types of panic buttons that your organization can use with Revolution to effectively communicate and rapidly receive assistance in the event of an emergency. Read More…
Our team strives to publish content that serves a variety of customers ranging across different industries and various buying stages. Whether you're an existing customer or just starting your evaluation journey for mass notification solutions, we hope you've found our blogs to be insightful and material that you can implement into your own notification strategy to keep your people safe and informed. For more information, please contact us online by visiting www.syn-apps.com/contact-us or by phone at 1-866-664-6071