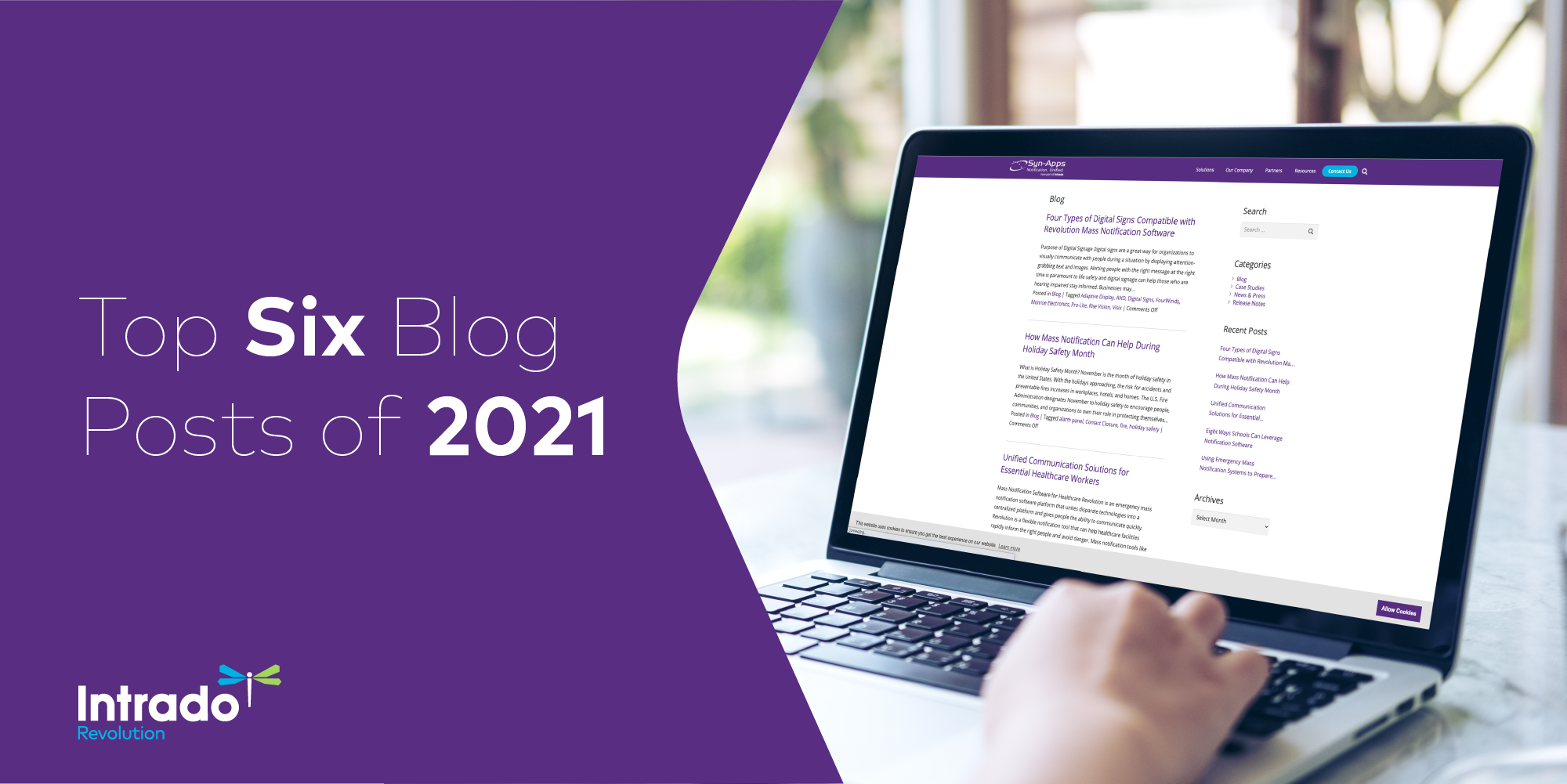 It is important to keep people informed and connected with the right communication tools. We have created and shared blog articles over the past year to help customers better understand the emergency mass notification industry and how our solutions can help solve notification needs.

Our blog articles focus on trending safety matters, product and partner integrations, software updates, mass notification use cases broken down by various industries, and more!

In this blog, we'll cover our six most popular posts that were read by viewers like you in 2021.
#1 – Using Emergency Mass Notification Software with your Cloud PBX System
A UCaaS PBX system provides a secure and reliable phone system through internet connection. It gives businessses the flexibility and scalability they need to communicate, while also maintaining lower costs because there's typically less maintenance requirements for customers to manage compared to traditional on-premises systems. In this blog, you'll learn how customers can leverage their UCaaS PBX system for emergency mass notification and IP paging using a simple software solution. Read More…
#2 – Leveraging Slack and Microsoft Teams in your Emergency Mass Notification Strategy
Customers can initiate and receive Revolution notifications through Slack and Microsoft Teams. When a notification is sent to a Slack or Teams channel, the members will receive details about the situation taking place and can discuss the incident directly within the channel. In this blog, you'll learn about the collaboration of the two platforms and how it can help employers communicate with remote workers during COVID-19. Read More…
#3 – Helping Customers Stay Compliant with Kari's Law
On December 1, 2013, Kari Hunt was murdered in her room at Baymont Inn & Suites hotel. Kari's nine year old daughter made four failed attempts to call 9-1-1 emergency services for help and was unable to reach a line outside of the hotel because she did not dial "9" first. In this blog, we will explain what Kari's Law is and how Revolution can help customers stay compliant with this law. Read More…
#4 – Six Ways to Incorporate Panic Buttons in your Emergency Mass Notification Strategy
Organizations should consider adding discrete alerting methods such as panic buttons, to their emergency notification plan. In this blog article, you'll learn about six types of panic buttons that your organization can use with Revolution to effectively communicate and rapidly receive assistance in the event of an emergency. Read More…
#5 – Staying Informed and Aware with Revolution Mobile
Revolution Mobile is an app that brings the power of Revolution emergency alert and mass notification software directly to mobile devices, giving you the flexibility to reach users wherever they may be located. In this blog, we'll cover Revolution Mobile's functionality and the value it can bring to your organization. Read More…
#6 – Smart City Solutions for Earthquake Preparedness: Customer Success Story
It is important to remind people that reside in seismic zones about the risk earthquakes pose and how to stay prepared in the event of an emergency. Robust mass notification systems integrated with early earthquake detection systems can serve as a great tool to rapidly share safety information with a large audience. In this blog, we'll share a customer success story about a project that we worked on with our Certified Endpoint Partner, Axis Communications. Read More…
For more information, please contact us online by visiting www.syn-apps.com/contact-us or by phone at 1-866-664-6071