What's New in Revolution 2019.3

We thought you might be interested to learn about the new features and functionality now available in the latest release of Revolution!
Scheduler Enhancements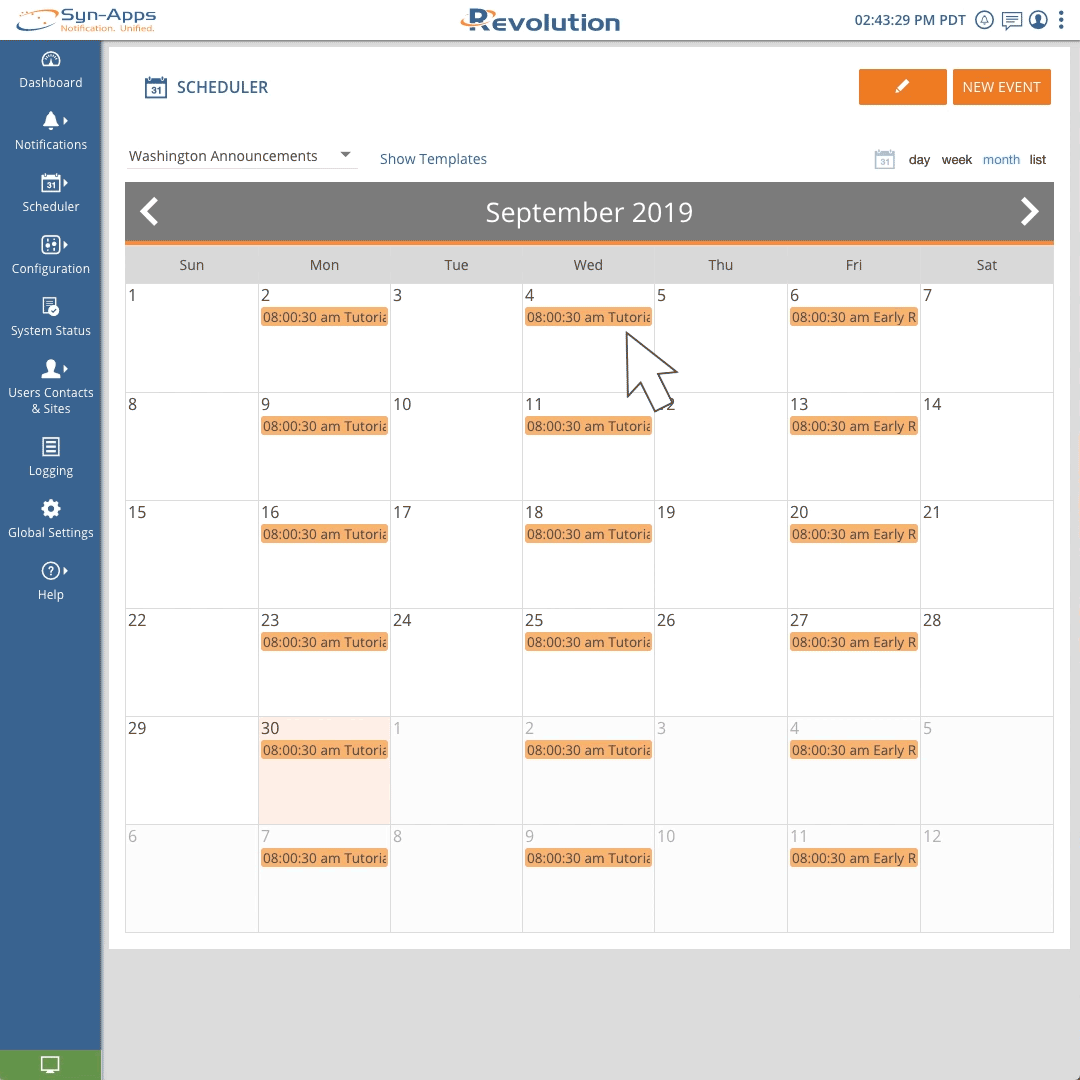 Setting up a calendar schedule just got easier with two new features: Day Templates & Day Copy! Users can create Day Templates to automatically create events. In addition, users can create multiple day templates and apply them to the appropriate schedule days. To do so, simply right-click on a day of events and select Copy Day to copy all of that day's events to another day on the same or different calendar. Users can also delete an entire day of events. See the Scheduler Help topic for all the details.
 

Auto-Conference

Revolution Conference notifications allow users to create a conference that automatically joins predefined users, and allows additional users to be added in on-the-fly. Conference notifications are triggered by dialing an assigned SIP line number. See the Revolution Web Help for more details.
 

Answer Notification

Broadcast a message to multiple IP phones and speakers requesting for an answer. Once a recipient presses the "Accept" soft-key on a phone, all other endpoints are dropped from the notification leaving, the caller (notification initiator) and recipient in two-way communication.
 
Noteworthy Highlights
Other highlights from the 2019.3 release include:
Cisco JTAPI Busy Detection – Revolution can now use JTAPI to determine if a Cisco phone is on a call. JTAPI Busy Detection is used when several phone lines are shared. Shared lines appear busy in the XML interface. Using JTAPI provides more accurate busy detection.


Auto-license endpoints used in notifications – In large-scale systems, managing which endpoint licenses need to be enabled or disabled can be time consuming. This feature enhancement allows users to run a daily check to automatically enable or disable endpoint licenses based on their use in notifications. This is an optional feature that must be enabled in your Global Settings.


Enhancements made to support NWS County CAP Feeds – CAP NWS feeds can now be monitored based on multiple NWS zone codes and/or FIPS6 geocodes. We have also updated our zone codes to the October 2019 version provided by the NWS. For most reliable results, filter CAP NWS triggers on multiple zone codes and geocodes to cover your area. NWS zones change frequently; if a zone that you want to monitor is not listed in our search results when setting up an NWS trigger, you can enter the zone as a custom value in Revolution. Please review the National Weather Service Alerts Help topic and review your existing NWS feeds.


Background music for Cisco and Mitel XML enabled phones – You can now configure a service URL with a background music stream to play music provided by an external source. Once the streaming source is active, phones can subscribe to the service and activate the background music by selecting the service button.


Cisco Push-to-Talk – Revolution now can emulate a walky-talky push-to-talk conference on Cisco XML enabled IP phones. Please note that push-to-talk notifications require multicast.


Paging Relay Cisco Device Deployment Tool – To support system resiliency, Revolution can now be configured to auto-deploy Cisco endpoints in the multicast sub-net or a specific User Tag to a Paging Relay. This keeps the Paging Relay device list up-to-date so that one-way notifications can be sent using a Paging Relay if Revolution is unavailable.
Interested in learning more about Revolution? Contact Syn-Apps Sales!