What's New in Revolution 2020.3 Software Release
We thought you might be interested to learn about the new features and functionality now available in the latest release of Revolution!

Before we begin, Syn-Apps was acquired by Intrado on September 11, 2020. You can read the full press release here. You'll notice that we've rebranded Revolution in this release to align with Intrado's product portfolio.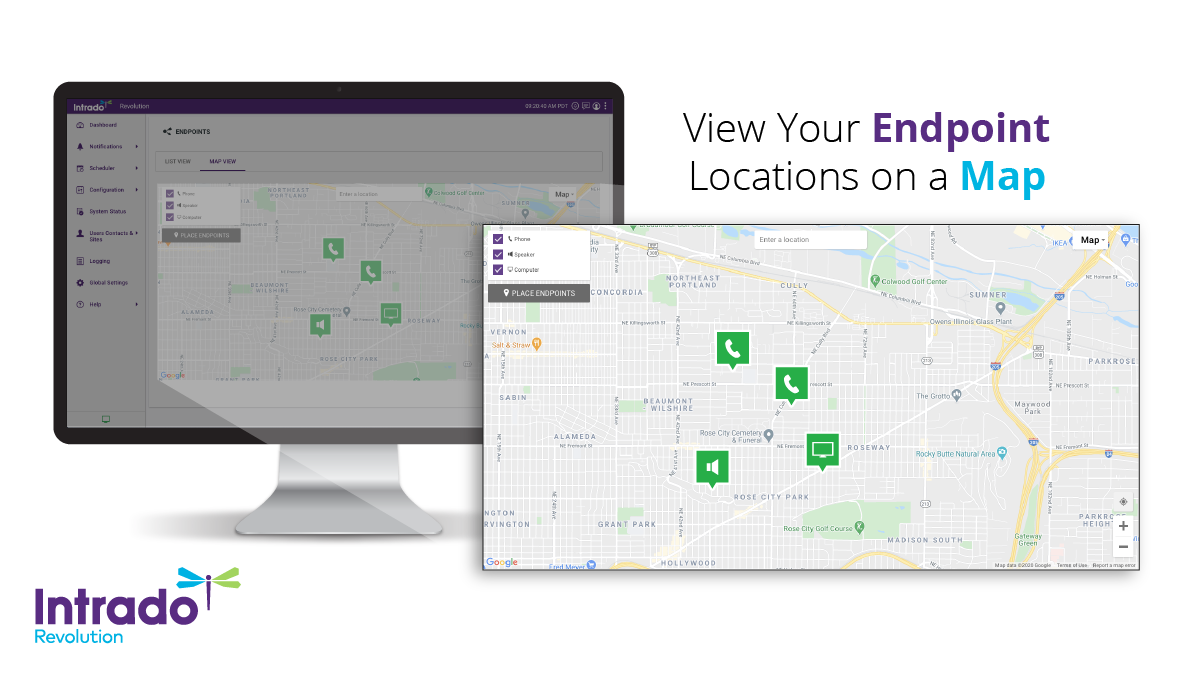 New Feature! View Endpoint Locations on a Map
We're excited to roll-out enhancements to Revolution's Map Feature! Revolution now shows your endpoints on a map if they have a geolocation set. You can quickly find out where endpoints are located and see their status. You can also fine tune endpoint locations by moving them on the map to their exact location.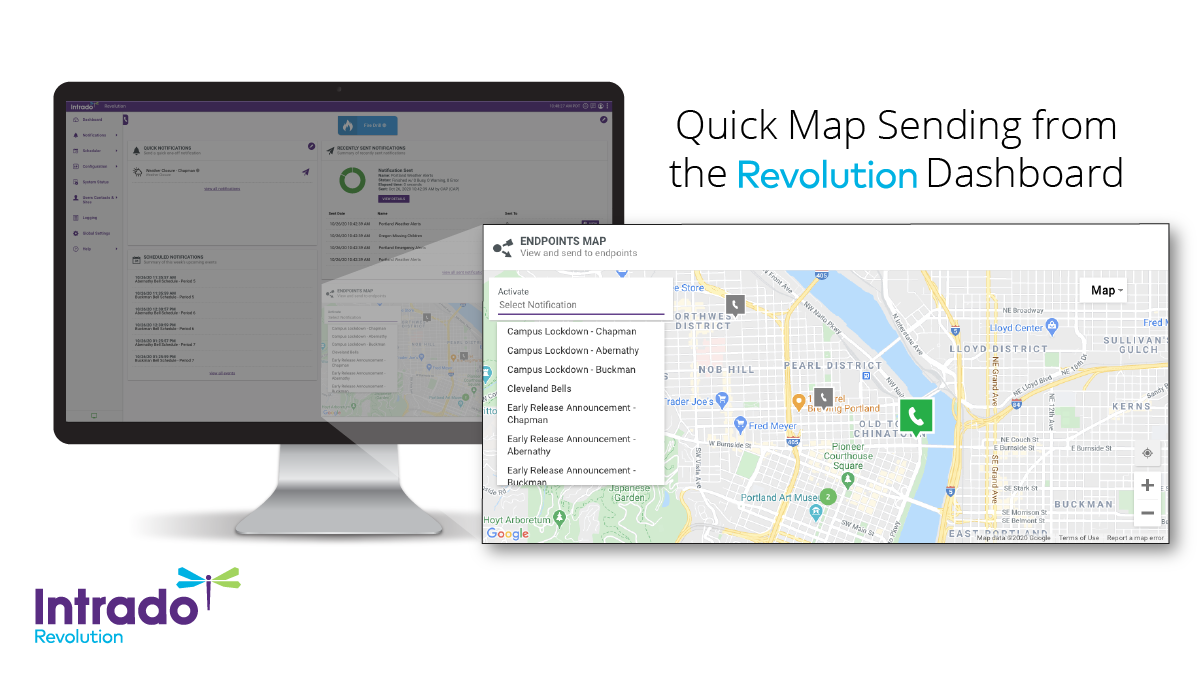 New Feature! Quick Map Sending from Revolution's Dashboard
Users can also show endpoints that have location information on a map which helps to quickly customize the endpoints used in a notification. Use the map to select recipients based on their location and quickly target notifications to the right endpoints and contacts.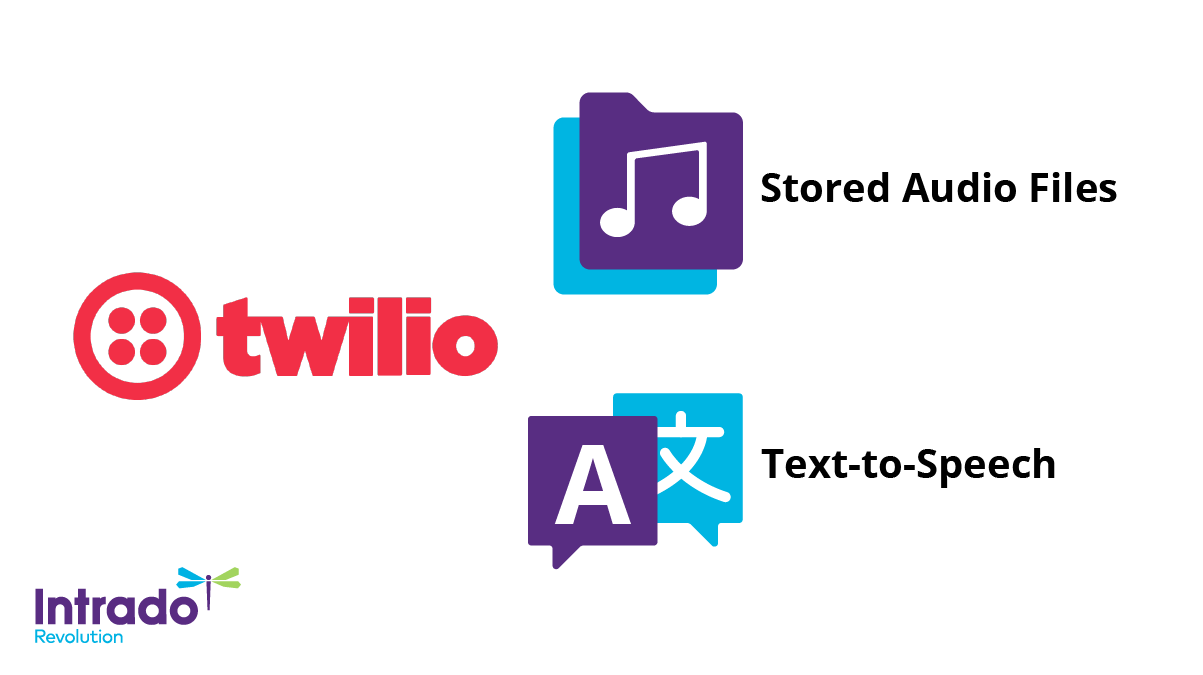 Twilio Mass Dialer Enhancements
We're excited to share two major enhancements to our Mass Dialer integration with Twilio:
Use cases include:
Custom Audio Files — You can now use stored audio files instead of using Twilio's text-to-speech service. This allows you to use your own voice in notifications, for a more natural and custom feel.
Multi-Language Support— You can now configure your Mass Dialer Notifications to use another language in the module settings. This is particularly useful for customers that require audio broadcasted in a different language.
Noteworthy Highlights
Other highlights from the 2020.3 release include:
Global Dashboard Quick Send & Dashboard Buttons — Administrators can now set up dashboard buttons and Quick Send Notifications for all of their users. This gives users a standard set of notifications on their dashboard so they can quickly start using Revolution to activate notifications. Users can still add their own custom buttons in addition to those set up by their administrators.
Support for Cisco Multiplatform Phones — Revolution now supports Cisco Muli-platform phones. You can send text, images, and audio to these phones and they can be used with cloud-based PBX platforms and other non-Cisco PBX systems.
Email Importance Based on Notification Priority — High Priority notifications now set the importance flag for email endpoints so that recipients can quickly view these email notifications sent from Revolution.
Single Site Mode for All Site Administrators — Site View mode allows admins to set up sites easier. You can select "Browse as Single Site" to display a banner from which you can select the site you want to work on. If you've customized Revolution to restrict endpoints, notifications, and tags to a specific site, then you verify these settings using this feature.
Bulk Delete Scheduler Events — You can now use Revolution's Scheduler Bulk Delete feature to remove events quickly from your schedules. Bulk Delete by clicking the new pencil icon in the upper-right of the Schedule page and selecting "Bulk Delete." Select and deselect the events you want within a date range and choose if you want to delete the entire series of events or just single instances.
Dynamic User Tags Now Support Areas — You can now create location-based dynamic tags to target your notifications to specific areas. Areas can be used along with other endpoint filters to correctly target the correct recipients for a notification automatically.
Send Audit Report Notifications — Get a list of all the events that happened in Revolution on a scheduled basis. See who logged in, who made changes, and who activated notifications. You can send reports as a scheduled event or on demand.
Added Support for Authentication in Webhooks — You can now use multiple authentications methods in your webhook integrations. Revolution supports basic, digest, and OAuthauthentication methods.
Interested in learning more about Revolution? Contact Syn-Apps Sales!