What's New in Revolution 2021.1 Software Release
We thought you might be interested to learn about the new features and functionality now available in the latest release of Revolution!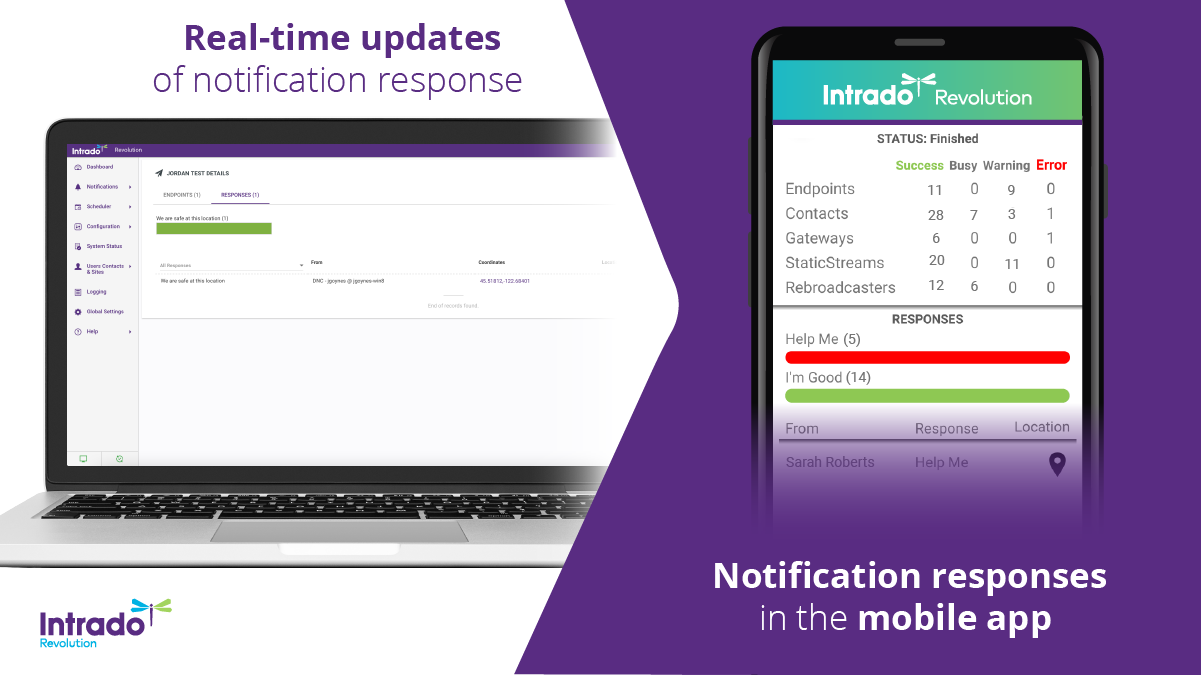 Feature Enhancement! Real-Time Updates for Notification Responses
We've made enhancements to Notification Responses! Here's how it works:
Web UI — You can now view notification responses in real time using the web UI! Revolution pushes responses to connected web browsers when users respond to your notification, allowing you to react quicker in the event of an emergency.
Revolution Mobile — Mobile users with sender credentials can now view notification responses directly from within the app by simply refreshing the app page. This gives authorized users greater visibility on their notifications – wherever they may be located!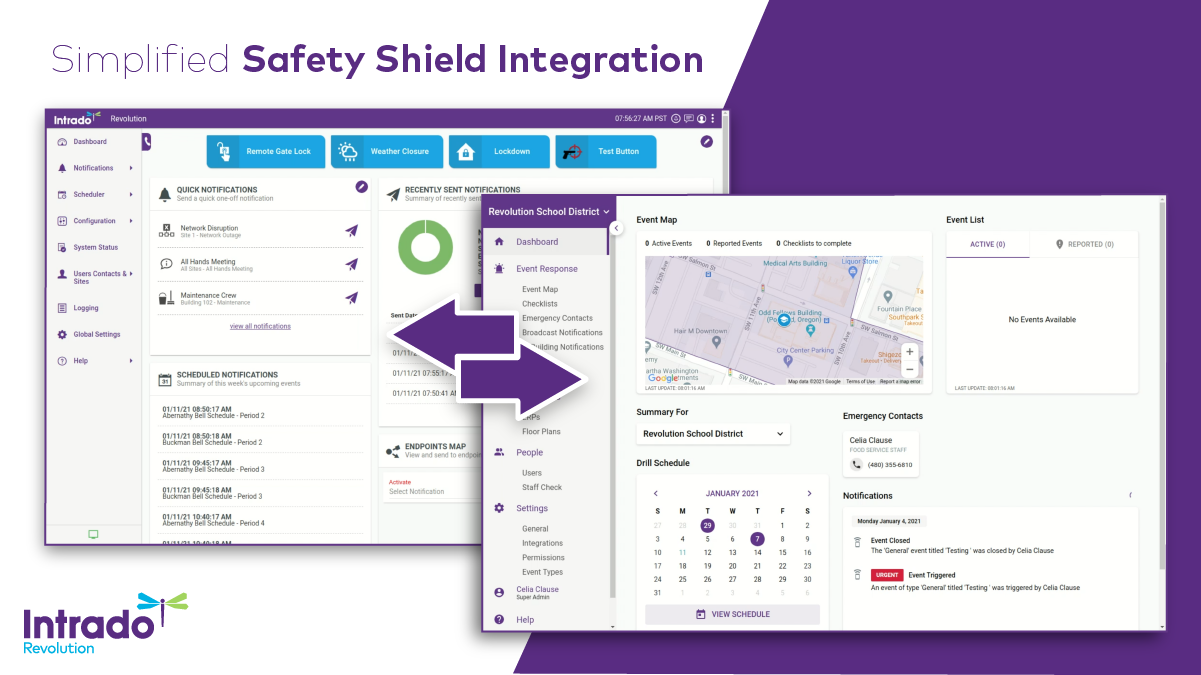 Feature Enhancement! Custom Integration with Intrado Safety Shield
Safety Shield leverages Intrado's status as a 9-1-1 service provider to offer its users a faster connection to 9-1-1 by automatically passing critical data about callers to a 9-1-1 dispatcher, allowing for quicker incident response and more accurate location information sharing.
We've built bi-directional activation between Revolution and Safety Shield. This means Revolution customers can now trigger Safety Shield events from Revolution and also have Safety Shield alerts activate a Revolution notification!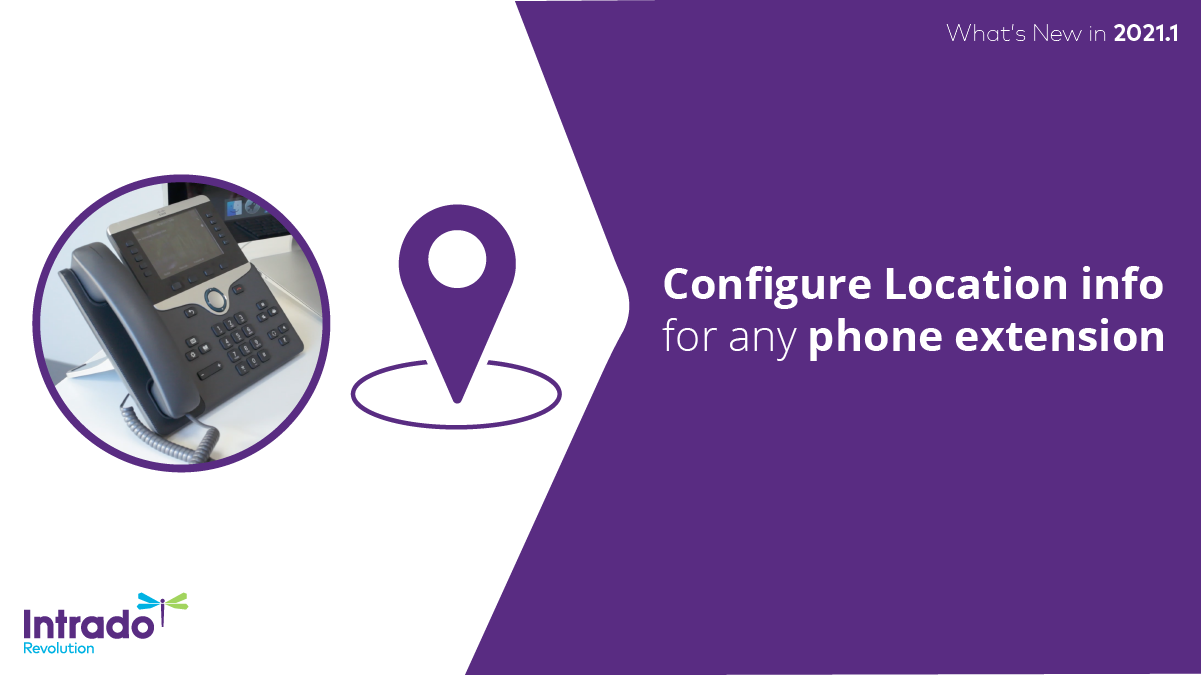 New Feature! Configure Location Information for Any Phone Extension
You can now create and import location information for any phone number or extension. This allows you to report a location in an emergency even for devices that are not supported endpoints in Revolution. Here's how it works: When an unsupported phone dials Revolution and activates a notification, Revolution can use the location lookup and report that activator's geolocation in the notification. This helps U.S. customers comply with the internal alert requirement from Kari's Law – even if their phones do not natively integrate with Revolution!
Noteworthy Highlights
Other highlights from this release include:
SNMP Activator Supports V2 & V3 — SNMPv1 is the original version of the protocol. More recent versions, SNMPv2c and SNMPv3, are feature improvements in performance, flexibility, and security. Revolution now supports all three versions to allow SNMP traps from more devices.
Saved Search on Notifications and More — To make configuration and navigation easier, the Manage Notifications, Sent Notifications, Users, and Contact pages will retain your search entry until you clear it or log out of Revolution.
Support for SIP Geolocation Headers — Revolution will now use location information received in a SIP geolocation header. You can use this information to know the locations that triggered a lockdown or other emergency notification in Revolution in SIP platforms that support geolocation.
Dialer and SMS Account Selection Per Notification — You can now select which SMS or Dialer gateway to use on an individual notification basis. This allows you to send in different languages or use different phone numbers for different site locations.
Interested in learning more about Revolution? Contact Syn-Apps Sales!